How Article 35-A has been creating havoc in Jammu Kashmir
02 Dec 2016 14:58:18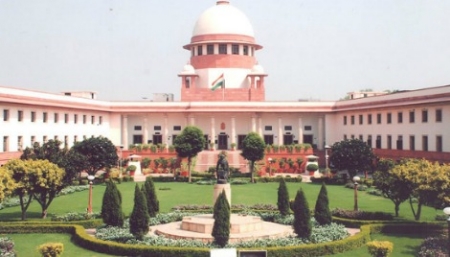 For those following affairs in the State of Jammu and Kashmir a blink and miss event was reported by the national media on 25 November 2016. The Supreme Court of India has in effect agreed to examine the inviolability of Article 370 of the Indian Constitution. This is perhaps an unintended consequence of the hearing of a group of special leave petitions filed in the Supreme Court seeking relief from a judgment of the Jammu Kashmir High Court on the issue of reservations in promotions for SC/ST employees of the state.
This development is significant as it draws attention to a host of questions that surround Article 370 of the Constitution of India (CoI). One of these issues is Article 35A of the CoI that flows from powers conferred on the President by Article 370.
On May 14, 1954, the President of India issued an order called the Constitution (Application to Jammu and Kashmir) Order 1954. It came into effect immediately and superseded the Constitution (Application to Jammu and Kashmir) Order 1950.
Besides carrying out many modifications and changes, this presidential order 'added' to the CoI, a new Article namely 35A as an amendment to Article 35. The 1954 order states it is being issued "in exercise of powers conferred by clause (1) of Article 370 of the Constitution, with the concurrence of the Government of Jammu and Kashmir".
The amazing thing is Article 35A was never presented before Parliament of India. Unlike other amendments, it appears in the Constitution as an appendix and is not listed in the list of amendments either.
Article 35A enables the State Assembly to define 'permanent residents' and to give them special rights and privileges.
As a consequence, no one except those defined as 'permanent residents' are entitled to property rights; employment in state government; participation in Panchayat, municipalities and legislative assembly elections; admission to government-run technical education institutions; scholarships and other social benefits.
This Article has denied certain basic rights to many communities living within Jammu-Kashmir for the past six decades. Predominant amongst these are the Valmikis of Jammu and Kashmir. Historically theirs is a marginalized Dalit community found in almost all regions of India.
In 1957, around 200 Valmiki families were brought from Punjab to Jammu-Kashmir, following a cabinet decision, specifically to be employed as Safai Karamcharis (sweepers). These families agreed to work in the state after being promised that the 'permanent resident' clause would be relaxed in their favour.
After a lapse of five decades, families have grown. However, their plight is that they are 'permanent residents' of Jammu-Kashmir only to the extent of being Safai Karamcharis!
Their children have studied up to graduation level and beyond but are not eligible to apply for government jobs and cannot get admission to government-run professional institutes. The educated youth from these Valmiki families are only eligible to be appointed as safai karamcharis.
The educated Safai-Karamcharis already working in Jammu Municipality now qualify for further promotions but they can only be employed as sweepers. These Valmikis can vote for Lok Sabha elections, but not for State Assembly or municipality elections. The colony that was allotted to them to live in (Valmiki Colony, Gandhi Nagar, Jammu) has not been regularized till date. Is this not the worst kind of racism practiced in the modern world?
Similarly, those who migrated from West Pakistan to the Indian state of Jammu Kashmir during Partition in 1947 have been living there since last 68 years. But over six decades later, they are still identified as 'refugees' and forced to live in 'camps'. Even their third generation is tagged as 'refugees' and denied rights and privileges that should have been immediately granted to those who were forced to migrate from Pakistan.
Compare their situation with those who migrated from Pakistan to other parts of India such as Delhi, Mumbai, Surat etc. They were rehabilitated with a number of welfare measures such as allotment of houses, jobs etc. In fact, their integration into the mainstream was virtually seamless. Today, they are the rightful citizens of India, enjoying every right and privilege that the Constitution of India confers on all Indians.
After over six decades of living like bonded labour, these families want to be free of the 'refugee' tag.
Around 5,764 families consisting of 47,215 persons migrated from West Pakistan to different areas of Jammu Division. No land was allotted to them by the State Government. These refugees were able to occupy some land, which was later allowed to be retained by them without conferring upon them the title of land because of their non-permanent resident status. This means they can stay on this land, but cannot sell it or buy any other property.
West Pakistan Refugees (WPR) are mostly from the deprived sections and more than 80% of them belong to the Scheduled Castes. The J&K law for them means – they can be tillers, labourers, tenants but not land-owners and land-lords.
After six decades, their population has grown manifold. By some estimates, it's about three lakh now. It's obvious that the land they could retain six decades ago cannot be sufficient now.
Denied 'permanent resident status' in Jammu Kashmir, WPRs cannot get a job in the State Government.
WPR families can't avail the benefits of various social welfare schemes launched by the State Government. No other benefits of any kind have been granted to them. Their children are not entitled to scholarships and freeships available to PRC holders.
Members of WPR families cannot get admissions in any state-run professional colleges. They are not even eligible to cast their vote for State Assembly elections. They have no participation in local village panchayats and other self-governing bodies up to the district level.
This has brought them down to the level of second class citizens as they have no role in law-making at the state level.
While the authorities at the Central and State levels took a number of steps to rehabilitate even the nomadic tribes by allotting them lands on permanent ownership basis, nobody cared for these 'refugees' from West Pakistan!
Is it acceptable that victims of Partition, who entered Indian territory in the hope of succor, continue to be persecuted at the hands of Indian authorities?
On a similar note, Gorkhas settled in Jammu Kashmir in the 18th century and a majority of them were soldiers and families that fought in the ranks of Maharaja Ranjit Singh of Punjab, whose commander-in-chief was Gulab Singh, a landlord of Jammu.
Their population numbers around one lakh and is spread across JK, including Kashmir Valley.
They have resided in Jammu-Kashmir for over hundred years, since before Independence. There are innumerable instances of Gorkhas who have made supreme sacrifices for the integrity of India and the safety of JK.
Unfortunately, however, they have never got the rights they deserve in independent and democratic India. The Gorkhas in fact feel their miseries have increased manifold since Independence. They face big hurdles in getting the Permanent Residence Certificate (PRC) of JK, without which educated young Gorkha boys and girls cannot get a government job or admission into educational institutes. Hence, they remain economically, socially and educationally backward.
Kashmiri politicians of all shades react violently to any mention dialogue on both Article 370 and Art 35 A. This opposition stems more from a deep rooted ethnic chauvinism rather than legality or logic.
The verdict of the J and K High Court in response to which Special Leave Petitions were heard by the Supreme Court and in response to which it has agreed to discuss the inviolability of Article 370,says "Article 370, though titled 'Temporary provision' and included in Part XXI titled 'Temporary, Transitional and Special Provisions', has assumed a place of permanence in the constitution," said the high court bench.. The court added for good measure: "It (article 370) is beyond amendment, repeal or abrogation in as much as the constituent assembly of the state, before its dissolution, did not recommend its amendment or repeal."
This presumes another oft repeated false narrative about Kashmir, namely that the Accession of Kashmir to India was conditional and merger of the state has not occurred. Both are legally untenable positions. The Instrument of Accession that the Maharaja of Kashmir, Hari Singh signed was similar to the one signed by other states. There was no intervening step of merger that these Princley States underwent. Merger was undertaken to make smaller states more viable and did not apply to a state of the size of Jammu and Kashmir. It's this Instrument of Accession, and not a temporary measure (as admitted by the J and K High Court) like Article 370, that forms the link between Jammu Kashmir and the Centre.
Kashmir often erupts in rage asking that the Vajpayee formula of Kashmiriyat, Insaniyat, Jamhooriyat' be implemented for the state. How is it possible to even take a small step towards these lofty aims on the basis of a narrowly constructed ethnic identity that considers it right to marginalize historically discriminated communities like the Valmikis of Jammu Kashmir?
When Sheikh Abdullah, on the suggestion of Nehru, had approached Babasaheb Ambedkar to get his consent for Article 370, the latter had rejected the proposal right away. It was then that Gopalswamy Iyengar had to place the proposal before the constituent assembly.
Ambedkar resigned from the cabinet on 10 Oct, 1951. The policy of Nehru over Kashmir was one of the aggravating factors in this decision. It is almost as if Dr. B.R. Ambedkar had foreseen the pitfalls for marginalized communities in the state of J&K and the consequences of pandering to an exclusivist Kashmiri identity, and thus was opposed to the provision of Article 370 in the constitution of India.
(Sonali Chitalkar is Assistant Professor, Department of Political Science, Miranda House, University of Delhi)
RELATED ARTICLES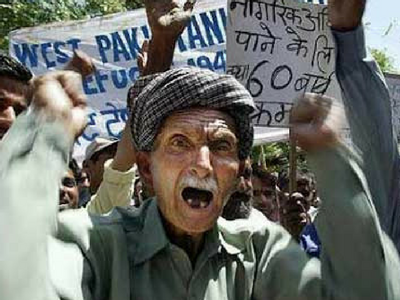 Posted on 7/3/2017 12:35:25 PM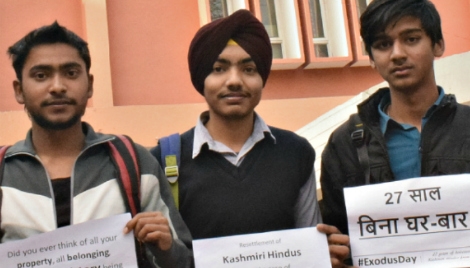 Posted on 1/20/2017 11:03:11 AM
In second consecutive year, the cause of Kashmiri Hindus found voice among students of DU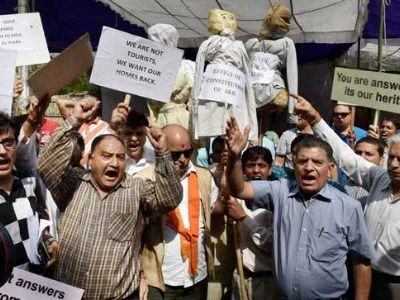 Posted on 9/16/2016 11:31:05 AM
MARTYRS DAY: FORGOTTEN HINDUS KILLED BY TERRORISTS IN KASHMIR