Sankri Devta
11 Jul 2016 13:53:50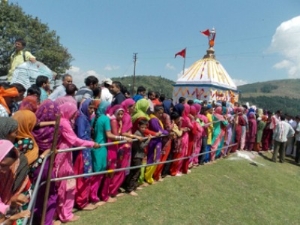 Sankri Devta
H.C.Katoch
Situated at a distance of about 33 Kms from Udhampur on the way to Pancheri (about 4 Kms short of Pancheri) another tourist attraction place, it falls in village Meer of Pancheri Block of Udhampur District. The village has a vast area of which constitutes small portion of cultivated land, the rest being hilly with very large patches of sloppy land and many small mountainous stretches which offer a very good landscape for enjoying the pollution free environment and peace of mind. It carries the natural gift of forests and vegetative cover all around on all sides of the village. The entire region presents a green view of the mountainous stretch with forest covered land and peaks. It is connected by motorable road of about 33 Kms which is black topped from the link road emanating from national highway (leading to Udhampur) upto Kainthgali. The road leading to village Meer is Kachha which is being upgraded and may take sometime. This place is short of about 4 Kms. form Pancheri.
Village Meer is known for the abode of Sankri Devta where a temple exists showing the age old idols of Male and Female deities inside the temple. These appear to be the Shiva and Shakti. On the left and right sides of the outer face of the temple are "Nag" and "Lion" inscribed indicating the Lord Shiva's ornament and Parvati's vahan (the Lion). This temple is stated to be over 500 years old which was renovated half a century ago.
The priests/worshippers of this temple are Katoch Rajputs by caste. Ordinarily Rajputs community is considered to be warriors and worshippers of "Kali" and their origin is traced even as back to as Mahabharata times. It is mentioned that when Roman empire was in its infancy Katoch dynasty was ruling Trigarta (Present Districts of Kapurthala, Jalandhar, Hoshiarpur,Kangra and parts of Gurdaspur and Amritsar). The priest's profession is the sole right of Brahmins who are well versed with the knowledge of scriptures and authorized to impart knowledge to other communities.
However, here the legend dates back to over a thousand years when Katoch clan was ordained to shift from Kangra to some hilly area for prosperity and security. They settled in village Meer. Their livelihood was cultivation of land and rearing of animals like goats, sheep and cows etc. One day, while one member of Katoch family took the herd of sheep and goat for grazing on the top of a hillock, at place known as "Truta" a holy person clad in white clothes appeared before him and requested Katoch to offer him a place for living. In reply the Katoch stated that they are themselves uprooted and are not in a position to help him. The same holy person appeared in dream to repeat his demand. This continued for three to four days. The members of the clan discussed about this demand and finally decided to offer him some place in the outskirts of the village and ultimately they showed him place at "Dupri" in village Meer to occupy and make his abode. The said holy person sat on a "Shilla" (a flat stone) and started his penance and Sadhna (Meditation). As the legend goes, he acquired "'Sidhies" i.e. Spiritual/Mystic powers by pleasing all seven "Kalikas"i.e Mahakali (Paskri wali Mata), Rolli Kota,Chakundi, Jodi Mata, Parole, Jawalaji and some other name not indicated (all these names are locally coined as the names in scriptures are different). After having successful in his Sadhna , he disappeared gain to appear in a different way. When one Katoch was tilling his land, he found some carved stone idols in the field with the earth covering the features of the idols. Considering it as ordinary stone, he broke it into pieces to make the land fit for cultivation. To the surprise of Katoch, he used to find the stone in its original form every time. The same episode was repeated next day again. After three four attempts of this process, the holy man appeared in dream and asked Katoch to take out the stone which represents him and install and worship and act as priest. This practice will make Katoch clan prosperous materially and spiritually. This way the deity was installed and his worship was given a start.
It is said that once a family of Gujjars moved with their goats for grazing in the area which damaged the crops, the priest prayed to the deity to save their livelihood source. They say a lion appeared and devoured three to four goats. Since then, the Gujjars avoided to revisit this area with the herd of goats for grazing. It is stated that even now some people see the lion moving occasionally at this place thereby suggesting the presence of the deity and increasing the faith of the people.
Following the dictates of the deity, Katoch clan arrange a "Mela" on the day that falls on Sunday or Thursday that comes first after "Dwadshi Ttithi" after Raksha Bandhan. Now the other clans like "Kambli" and "Suri" who have also surnamed Katoch join this for celebrations. The Mela starts two days early to this fixed day and on the concluding day Chhari i.e. the last worship and distribution of Prasad is done. On this day people whose Manokamna (Wishes) are fulfilled by the deity pay their obeisance. Those praying for the fulfillment of their desires tie a knot with the tree behind the temple and return to untie it after their desire is fulfilled. They also stick gold bindies (the seller is available on spot) on the idols whose beseech is fulfilled.
This is a traditional practice followed by the people.They come with the "Dhol" and other local instruments singing and dancing to please and offer gratitude to the deity. There are some sculptors of horses and some animals etc are lying outside the temple for which no explanation was available. There is also no knowledge about the naming of word Sankri Devta with either Katochs or with any other person. It appears that Shankar has been locally termed as Sankri as is usually happens in many cases.
The total gathering during three days of Mela, was over 50,000 people (as per official version) who paid their obeisance to the deity.
courtesy:-Daily Excelsior
RELATED ARTICLES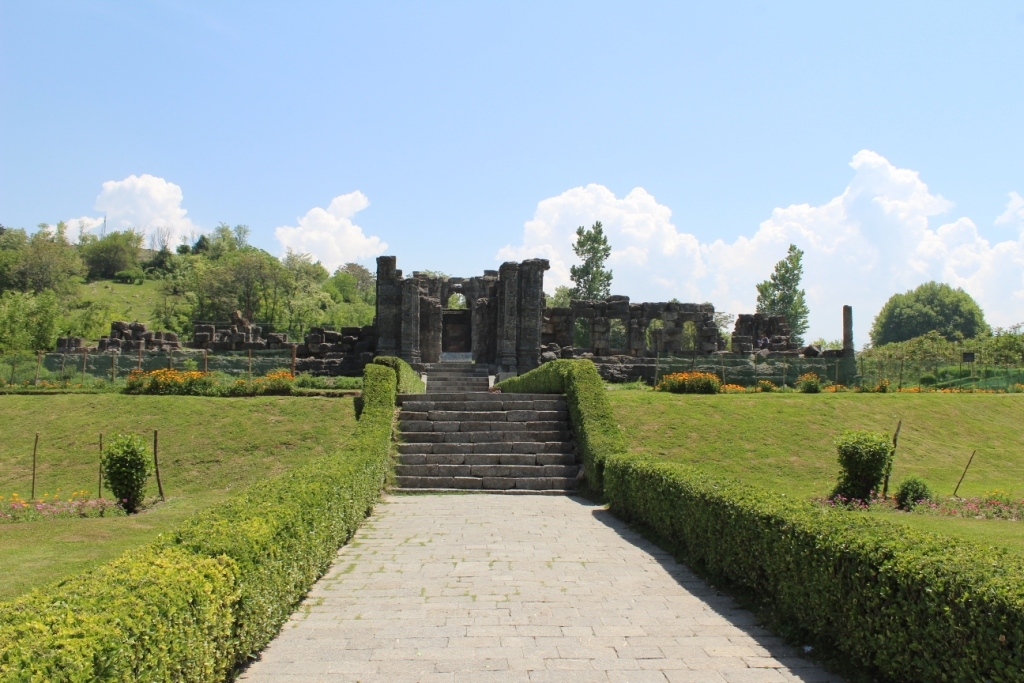 Posted on 5/16/2017 1:18:12 PM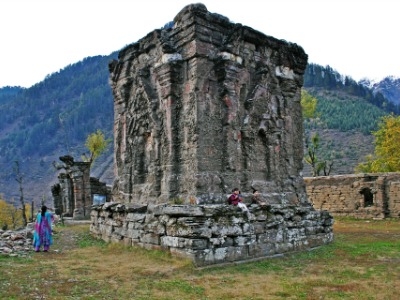 Posted on 7/11/2016 4:01:46 PM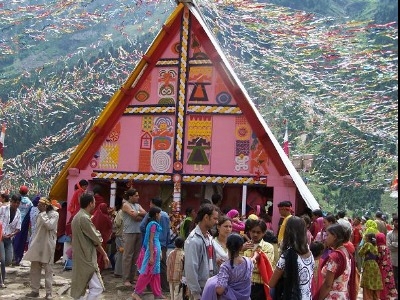 Posted on 7/11/2016 3:42:12 PM