POK Historical Perspective
14 Jul 2016 13:59:01
POK Historical Perspective
Pakistan Occupied Kashmir
Historical Perspective
Strategically most important state of India 'Jammu and Kashmir' is historically and geographically unique, a part of Jammu and Kashmir is illegally occupied by Pakistan. So the state of Jammu and Kashmir which acceded to India in 1947 is divided into two parts viz
(1) Jammu and Kashmir ( which is part of India) and
(2) Pakistan Occupied Kashmir which consists of so called Azad Jammu & Kashmir and Northern areas now renamed as Gilgit-Baltistan.
The area wise distribution of different parts Jammu and Kashmir are:
(i) Total area of Jammu and Kashmir : 222,236 sq. km
(ii) Area under illegal Pakistani Occupation (POK=AJK+Gilgit- Baltistan): 78114 sq km.
(iii) Area of Jammu and Kashmir under Chinese Occupation: 42,685 sq km
(iv) Area ceded to china by Pakistan : 5130 sq km
(v) Total area under Pakistan and China : 120799 sg.km
(vi) Total area with India : 101437 sg.km
(vii) The state of Jammu and Kashmir (including POK and areas under Chinese occupation) came into present form of political structure as an entity, in the form of state on March 16 ,1846. On this date a treaty known as Amritsar treaty was signed by Maharaja Gulab Singh and British Government. The areas lying on the right side of River Indus were annexation during the rule of Maharaja Ranbir Singh. The Annexation of these areas was approved by British government. The state of Jammu and Kashmir at the time of Maharaja Ranbir singh was administratively divided into provinces of:-
(I) Jammu
(II) Kashmir
(III) Ladak
(IV) Gilgit and Frontier Illaquas. In 1947, i.e, 26 October 1947, the ruler of Jammu and Kashmir Maharaja Hari Singh acceded to union of India. A Part of Jammu and Kashmir was illegally occupied by Pakistan. Pakistan bifurcated the areas under its occupation into so called.
(i) Azad Jammu and Kashmir and
(ii) Northern Areas consisting of Gilgit-Baltistan. The Northern areas were surrendered to Pakistan on April 28, 1949 under Karachi Agreement by AJK. The further ratification of accession of Jammu and Kashmir with India was done by democratically elected institution of constituent assembly of Jammu and Kashmir of February 15, 1954 by ratifying it.
The POK which was under the direct control of Pakistan was named as "Azad Jammu and Kashmir" to show its so called independence.
Administration structure of AJK
Northern Areas come under direct rule of Pakistan after Karachi Agreement and was named Northern areas.
Administrative Structure of so called
'Azad Jammu and Kashmir' since 1947.
On October 24-1947 a government was established in POK, which worked like a war council. The government was working under some rules of business (ROB).
(i) The President of 'AJK' named by working comities of Muslim conference was repository of all executive and legislative powers. At the same time a supreme head was appointed by Legislative and executive action of 'AJK' government
(ii) A Rudimentary Judicial System was established id 1948
(iii) ROB were revised in 1953, 1957 up to 1960.
(iv) In 1960 the post of president was subjected to election and 'AJK' state council was introduced which was to be elected. This council had 24 members. In 1964, there was an amendment known as 'AJK' Govt. Act1964 . Accordingly 8 councilors were to be elected to state council.
(v) In 1965, provisions were made for nomination of two members by President.
(vi) The chairman of the council who acted as ex-officio President of AJK was nominated by the chief Advisor usually Pakistan government representative
(vii) According to AJK Govt. Act 1965, eight members were elected and 4 nominated by chief adviser
(9) Only limited number of people had the right to franchise up to 1969
(10) In 1970, for the first time the president and the legislative assembly were elected by adult franchise.
(11) In 1974, parliamentary System was established.
(12) Since 1975 Prime Minister is elected by members of legislative assembly and he is chief executive and President is the constitutional head of the 'AJK'
(13) All the above mentioned changes were made by Pakistan through executive orders. The people of 'AJK' had no role in it.
(14) The prime objective of these changes was to create an administrative similarity between Pakistan and 'AJK' and that the 'AJK would have a council'.
(15) The 'AJK' council, with prime minister of Pakistan as the chairman, Six elected members, Six ex-officio members including president of 'AJK' as vice chairmen, prime minister of 'AJK' or his nominee, Federal minister of Kashmir affairs of Pakistan, five member nominated by Prime Minister of Pakistan from among federal Ministers or Members of Parliament of Pakistan.
(16) The 'AJK' council is a constitutional body and has executive powers under the 3rd schedule of 1974 act.
(17) AJK has executive powers to legislate on defense, security, Foreign affairs, foreign trade, currency coins and matters related to UNCIP resolutions.
(18) 'AJK' council is also responsible for collection of income tax from territory of 'AJK'. The 'AJK' council Board of Revenue and its attached department, the commissioner of income tax with its offices in all the seven districts of 'AJK' undertake the collection of income tax. It becomes clear that the 'AJK' government has nominal powers and functions under direct control of Pakistan Government.
Dismissal of governments
The real power of Pakistan and the nominal powers of AJK government becomes clear from the dismissal of governments from 1953 to 1974. The chronology of events of dismissal of governments of 'AJK' is as follows:
(i) In 1953, the first government by M. Ibrahim Khan was dismissed.
(ii) From 1953-1962 the governments led by then Abdul Qayuum Khan, Sher Ali and Mirwaiz Yusuf sha were dismissed
(iii) In 1955 Martial law was imposed after protests against Pakistan control.
(iv) The first elected government led by K.H. Kursheed was dismissed in -1964.
Administrative structure of Gilgit- Baltistan
(Northern Areas)
Northern Areas or Gilgit-Baltistan were directly ruled up to 1993 by Pakistan after Karachi Agreement (even Northern Area do not find mention in the constitution of Pakistan).
The people of Northern Areas did not have the fundamental rights and were directly ruled by a Joint secretary in the ministry of Kashmir Affairs and Northern Areas (KANA).
In Response to a petition a verdict was given by AJK Supreme Court, which questioned the illegal occupation of northern areas or Gilgit-Biltistan by Pakistan, Pakistan government made some rudimentary arrangements. Which are
(i) In 1994 the formation of Northern Areas executive council, with 26 members took place without legislative powers.
(ii) The Joint secretary to the government of Pakistan in the ministry of Kashmir affairs and Northern Areas (KANA) till 1999 was the real executive head of northern Areas.
(iii) In 1999 election to the northern Areas legislative council were held with few fiscal and legislative powers.
(iv) In 2000 some legislative and fiscal powers were added to NALC.
(v) Gilgit-Baltistan Empowerment and self- governance order of August 2009 gave some more powers.
(vi) Now after six decades of Independence of the Indian subcontinent Gilgit-Baltistan has got an elected chief-minister
(vii) Un 2009 Pakistan declared Gilgit-Baltistan as its province. Which has be ruled out by 'AJK' Supreme Court.
Supreme Court of AJK (POK):
Azad JK. (POK) and Northern Areas not Part of Pakistan
The constitutional position of AJK and Northern areas was cleared by two Judgments of AJK Supreme Court.
The first Judgments was delivered on date 8-03-1993 regarding the control of northern areas of POK by Pakistan
The second Judgment was of Supreme Court and its authority to appoint Judges in AJK Supreme Court.
The first judgment cleared the territorial position of northern Areas that whether northern Areas formed past of the state of Jammu and Kashmir on August 15 -1947 and whether the northern area should be annexed to AJK i,e POK.
The Supreme Court of AJK admitted the legal and historical facts and treaties singed by rulers of J and k with governments of British India, which support the territorial integration of northern Areas with J and k on August 15,1947. The court also admitted writings by different individuals who were officially linked to affairs of J and k before and after august 15, 1947 Maps published by international institutes and agencies and letters written by political personalities of Pakistan and POK and speeches delivered by Pakistani officials in United Nations were also admitted in the court as evidence to prove that northern areas are part of Azad Jammu and Kashmir and not of Pakistan. The above mentioned evidence which were admitted in the court are reproduce here as follows :-
(i) Gilgit was leased by ruler of the state of J and K on March 26, 1938. Through a lease deed on August 1st 1947 those areas were restored to state government.
(ii) Brigadier Ghansara Singh was appointed as Governor of Gilgit by Government of Jammu and Kashmir.
(iii) Northern areas do not form part of the territory of Pakistan as defined in constitution of Islamic Republic of Pakistan, 1973.
(iv) A written statement signed by Advocate general of Pakistan who was instructed through a letter no. Mo/351824/91 of November 10,1991 states:
(a) According to constitution of Pakistan Northern areas were never part of Pakistan
(b) According to the constitution of 1973 of Pakistan, Northern areas are not part of Pakistan
(c) Northern areas are historically, geographically, constitutionally and legally part of Jammu and Kashmir and will remain so
(d) Northern areas are inseparable part of J and K and its control is with Pakistan under an agreement but northern areas are not part of Pakistan.
According to the enforcement of Azad Jammu and Kashmir interim constitution Act, 1974 the administrative control of northern areas should have been restored to AJK by putting an end to the precious agreement of 1949.
The contents of the letter No.PS-400/89 of March 17, 1989 addressed by president of AJK to the president of Islamic Republic of Pakistan are.
(a) The control of northern areas was temporality handed over to Pakistan.
(b) According to UN resolutions northern areas are past of Jammu and Kashmir. .
(c) The assistances, under which the agreement of transfer of control of northern areas to Pakistan looks place, have changed. So the said agreement should be reviewed.
(d) According to census reports of 1911, 1921, 1931 and 1941 of government of India northern areas are part of J and K
(e) In 1925 government of J and K under took settlement of Revenue according of the settlement northern areas are part of J and K
(f) Maps published in February 1953 by ministry of Kashmir affairs of Pakistan shown Northern Areas as part of Jammu and Kashmir. These maps were reproduced in 1987.
(a) The agreement between Pakistan and China on transfer of trans Karrakoram track to China also accepts the northern areas are part of J and K
(b) On 12 March 1963, Pakistani foreign Minister and later Prime Minister of Pakistan Z.A. Bhutto stated.
"———–the territory of Jammu and Kashmir is not part, integral or otherwise, of the territory of the union (Pakistan)
(c) During the proceeding of Ganga hijacking case the attorney general of Pakistan accepted in court that " Any part of Jammu and Kashmir can't accede to Pakistan or India"
On October 1st, 1846 Maharaja Gulab Singh Singed Lahore treaty with British government and accepted the supremacy of British government. And by virtue of this agreement Jammu And Kashmir State emerged. The areas lying on the right side of river Indus were annexed during the rule of Maharaja Ranbir Singh.
The annexation of these areas was approved by British government of India.
At time of Maharaja Ranbir Singh's rule Kashmir was administratively divided into provinces of
(I) Jammu
(II) Kashmir
(III) Ladak and
(IV) Gilgit and Frontier Illaquas
Fontier Illaquas comprised of
(I) Hunza
(II) Nagar
(III) Punial
(IV) Yasin
(V) Kuh
(VI) Ghizar]
(VII) Ishkoman and
(VIII) Chilas
With an area of 14,680 sq. miles
At present, Gilgit Baltistan and former Frontier Illaquas are designated as Northern Areas.
In census of India, 1911, volume XX, part 1, Report on Kashmir administrative set of the state as divided at the eleven times. The province of Jammu comprised of
Jammu
Jasrota
iii. Udhampur
Reasi and
Mirpur
Kashmir province comprised of
Kashmir North
Kashmir South and
iii. Muzarffarabad
The Frontier districts comprises of
Ladak and
Gilgit
The internal jagirs and dependencies were described as
Poonch
Bhadarwah
iii. Chaneni
The Frontier Illaqus, petty chietships in feudatory relation with state were described as
Punial
Ishkoman
iii. Yasin
Hunza
Chilas.
A village lying in Tibetan territory as an isolated unit which belonged to the state was 'Mansar' village. The administrative description was followed in the subsequent reports for the years 1921, 1931 and 1941. The position which emerged in 1941 vide the census report described above, in respect of Frontier districts, was as.
Ladak with Skardu and Kargil as tehsils
Gilgit, with Gilgit wazarat and Astore as tehsils
Frontier Illaqas, comprising of Punial, Ishkoman, Yasin, Kuh, Ghizar, Hunza, Nagar and Chilas.
Mr. Joseph Korbel, member of UNCIP in his book 'dangers in Kashmir' at page 5,6,92 and 202 described:
"The state (J and K) consists of several regions. Its heart is famous valley of Kashmir, south of it is the Jammu Province, to the east is Ladak, north of it, Baltistan, farther north are regions of Hunza, Nagir, and west of them, the Gilgit Agency, composed of several political districts west of the valley are the districts of Muzaffarabad, Riasi Poonch and Mirpur" (Page 5-6) "in general one would say that the western and north western areas of the state of Jammu and Kashmir never became part of Pakistan. Legally they continue to be part of the state of Jammu and Kashmir"
Karan Singh in his book "Heir Apparent" has described on page 52 "——— the valley was inhibited predominantly by Sunni Muslims with a small community of Shias, Sikhs and redoubtable Kashmire Pandits, Jammu by Dogras Hindus ——— Gilgit, Skardu and Kargil by Shias, Ladak by Buddists
Alastair lamb in "crisis in Kashmir" described "—–First there is Kashmir proper, —– second there is Jammu—— . Third, there is the district of Poonch and fourth, the very extensive track of Ladak and Baltistan. Finally, in the north west is the Gilgit region, comprising Gilgit, Gilgit Wazasat, Gilgit Agency, Yasin, Ishkuman, Hunza and Nagar.
Sir Mohammad Zafrullah khan, Foreign Minister of Pakistan, in his speech made in the security council on January 16, 1948 described the position of state including Gilgit as:
———— Gilgit which is the high mountain region in the north west, a part of which borders of USSR, is entirely Muslim. The total area of the state (J and K), ————, is 82000 sq miles.
On the enforcement of independence Act of 1947, section 7 (1) (b) of independence Act all treaties and agreements in force between the British government and state government (of JCPK) lapsed. So the Lease treaty between J and K and British government on Northern areas lapsed and the administrative control of northern areas was restored to J and K government.
In the consequence of lapse of lease treaty, the state government of J and K appointed its own Governor on July-17-1947 vide order No-B.480/47 P.B.
Brigadier Ghansara Singh reached Gilgit on July 30, 1947 and assumed his office by relieving Lt.col. Beacon a British officer.
Brigadier Ghansara Singh in his own account 'Gilgit Before 1947' wrote, "I reached Gilgit on 30 July,1947 to take over as Governor ————-2. The Gilgit public however, was highly pleased with the transfer of power ———-11, thus the whole charge of Gilgit and Gilgit Agency was taken over.
Some of the laws on the statute book of the state (JIDK) are Act No. XVI of 1917 /2004 bik ,—————- and the Gilgit scouts law—Act No. XVI of 1917/2004 Bik
In 1931 Maharaja Hari singh established a legislative assembly, called praja sabha. The Jammu and Kashmir constitution act was enforced in 1996 Bikrami. The Assembly was partly representative as some members were nominated by the ruler of the state. Among them five members were nominated from Ladak and Gilgit ; two were Buddhist from Ladak wazarat, one Muslim from Skardu, one Muslin from Kargil, and one Muslim from Gilgit wazarat. The last election in the state were held in January 1947.
Record of assembly show budgets, whereby development funds were allocated for various development schemes of Northern Areas. In the budget of 1940-41 (1997-98 Bik) column of expenditure reflected the amount for grant of allowances to subordinate administration posted in Gilgit Agency. In the budget of 1945-46 (2002 Bik) in the column of local funds (education cess) posted in Gilgit and Skardu. Funds were also allocated for teachers, Governor of Yosin, mir of Nagar, Governor of Punial, Governor of Kuh and Ghizar etc.
Subsection (2) of section 2 of India's Independence Act laid down that subject to the sub – section (3) and (4) of the same act, the territories of Pakistan shall be
(a) The territories which, on the appointed day, were included in the province of East Bengal and West Punjab as constituted under the two following sub-sections.
(b) The territories which, on the day of passing of the Act, were included in the province of Sind and the chief commissioners Province of British Baluchistan
(c) The North West frontier province provided on or before the appointed day, the majority of the citizens of that province, voted in favor of Pakistan and it were so declared by Governor General.
The territorial areas of Pakistan were further elaborated in the constitution of Islamic Republic of Pakistan of 1956, -1962 and 1973. In the present constitution under section (2) the territories of Pakistan were listed as
(a) The province of Baluchistan North West Frontier, the Punjab and Sind.
(b) The Islamabad capital city
(c) The Federally administered tribal areas (FATA) and
(d) Such states and territories as are as may be included in Pakistan whether by accession or other wise.
(e) It is quite evident from the afore said description of the territories of Pakistan that the northern area or for that matter, any other part of Jammu and Kashmir state are not claimed as part of Pakistan. So it is evident from all that has been discussed above as documentary evidence the northern area of whole of Jammu and Kashmir is not part of Pakistan.
AJK Supreme court:
AJK (OR POK) is not part of Pakistan
Constitutional and Legal Position of POK
Chief Justice of AJK, while heading a three – member bench on march 15, 2010, Passed an order.
The order states: "The Supreme Court of Pakistan has no jurisdiction to entertain any petition regarding appointment of Judges of superior courts of AJK. Such kind of petition does not come within the Jurisdiction and sphere of Supreme Court of Pakistan.
The order further states "The supreme court of Pakistan has no authority to extend their jurisdiction to the area of Azad Jammu and Kashmir because the territories of Pakistan have been defined in Article 1 of the constitution of Islamic Republic of Pakistan. The supreme court of Pakistan can not go beyond the territories defined in Article 1 of the constitution of Islamic Republic of Pakistan.
So the above mentioned order declares Kashmir (J and K) as a separate country and says that Supreme Court of Pakistan has no Jurisdiction in AJK affairs, The Article 1 of the constitution of Pakistan states:
Article 1: the republic and its territories
The republic and its territories
(I) Pakistan shall be a Federal republic to be known as Islamic republic of Pakistan
(II) The territories of Pakistan shall comprise
(III) The province of Balochistan, the Khyber Pakhtunwalla, the Punjab and Sind
(IV) The Islamabad capital territories. Hence in after referred to as the Federal capital
(V) The federally Administered tribal Areas and
(VI) Such states and territories are may be included in Pakistan whether by accession or otherwise so article 1 of the constitution of Pakistan it becomes clear that POK is not part of Pakistan
Human Rights Violation
In POK
The Human Rights watch Report titled, "Human Rights Violation in Azad Kashmir" published in the year 2006 give an account of the unprecedented violations of human rights in POK. The report had concrete suggestions for Pakistan, the international donors and agencies in POK and the militant groups operating there in. They conclude
Release all individuals imprisoned or detained and withdraw immediately all criminal caser against anyone, including Kashmiri nationalists, for the peaceful expression of their political views, including that Azad Kashmir should be independent,

End the practice of arbitrary arrest and detention, the forms of harassment, and torture and other ill treatment of persons exercising their right to freedom of expression, including those who peacefully oppose Kashmir's accession to Pakistan or demand greater autonomy for the territory

Repeal constitutional curbs on freedom of expression, association and assembly in Azad Kashmir Law are inconsistent with international human rights and standards.

Prosecute to the full extent of the law and in accordance with international

standards those members of the armed forces its intelligence agencies government officials and police personnel implicated in serious violations of human rights, including arbitrary arrests and torture.

Respect press freedom and allow full independent courage of both past and ongoing events in Azad Jammu & Kashmir. Remove formal and informal prohibitions on news fathering and reporting and accord all journalists full freedom to movement. End the practice of banning books and literature.

Ensure that human rights organization have freedom of movement throughout Azad Kashmir and allow them to carry out investigation.

The militant groups to "cease threatening civilians who do not cooperate with or support activities of militant groups. Human Rights commission of Pakistan has also published its report. It indicates.
(I) The Pakistan Inter Services intelligence (I S I) operates throughout AJK and engages in the extensive surveillance of pro- independence groups and media.
(II) Arbitrary arrests and detention are commonplace.
(III) In some instances, those detained by I S I or police or security forces are tortured and several cases of death in custody have been reported. Emma Nicholson's report, compiled in the aftermath of 2005 earthquake makes some pertinent remarks. It notes among other things that.
(g) The miserable state of socio economic- political problems was accentuated by the earthquake of 20056 and the "minimal basic sights" which were with population were "decimated, compounding a situation notable for the lack of in poverty illiteracy and backwardness.
Sectarian violence
Sectarian violence in POK has been there for long and Pakistan state is much involved in it to fulfill its sinister designs. On April 2005 a well documented report published by International crisis Group (ICG) n titled "The state of sectarianism in Pakistan" reports that
(i) The Shias in the region were alienated by state's continued sponsorship of Summi or orthodoxy.
(ii) Zia ul Huq manipulated sectarianism to settle political scores with PPP.
(iii) Anti Shia riots engineered by Zia regime in 1988 engulfed Gilgit- Baltistan and claimed 700 lives
(iv) Sectarian elements from neighboring provinces actively patronized by the state have unleashed a reign of terror in the region from time to time Villages are burnt and even livestock is not spared.
(v) Another report of ICG published in April 2007 titled " Discord in Northern Area" while describing the origin of sectarian strife in POK declares that "state and non state actors have manipulated the divisions there since the 1985"
Economic Exploitation of POK
(i) POK has an identified capacity of around 15,000 mega watts of hydroelectricity, which are used by China and Pakistan.
(ii) No benefits from hydroelectric projects accrue to the local people.
(iii) Diamer Bhasha Dam project built at Diamer in Gilget- Baltistan but power plant will be situated in Khyber – Pukhtunkhwa.
(iv) The Dam will inundate vast tracks of available land and will have an adverse impact on the local environment and will cause displacement of large population.
Human Rights violation in Northern Areas
Amir Humza Qureshi, founder of Giligit – Baltistan Jamhoori Mahaz, in Jararat, wrote, "It is a fact that people of this region (Northern Areas are facing more human rights violations and whenever the official (Pakistani) media talks about repression in (India) Kashmir, people with strong hearts laugh at this hypocritical attitude and people with weak hearts cry.————- But the people of this region of the world in matters of fundamental human rights, Justice and economic development.

Organizing or overt expression of people will, even peaceful expression by protest has led to arbitrary arrests and long Jail terms.

Demonstration by students in Gilgit against unemployment has been brutally crushed.

According to "'k'2", Gilgit- Baltistan's only weekly, "one of the Biggest obstacles faced by the people of Gilgit-Baltistan have been the systematic campaign of terror and decimation waged against the region's Shia population. Shias who comprised over 75% of the original inhabitants of land now risk being outnumbered due to conscious settling of non locals. ( now 40% of the population)

According to Abdul Hamid Khan, chairman of BNF, more then 900 youth have been killed 1000 had become disabled or wounded while 40 are still missing and several building were destroyed due to Pakistan sponsored terrorism.

Abdul Hamid also stated that political and human right activities were completely denied by Pakistan and result of which more than 1000 politically active people were facing sedition cases no impartial Judicial system existed in Balawaristan".
Overall Development in Gilgit – Baltistan or Northern Areas
According to Balawaritan National Front Northern Areas have on university and no professional colleges

The population of northern Areas 15 870, 347 (1998 census) and government has set up only 12 high school and two regional colleges with no postgraduate facilities

Locals are paid 25% lass then the non-native entrants in government sector.
(iii) Agriculture is the mainstay of economy but much of the land is held by a small minority of very privileged landlords.
(iv) Adult literacy in the northern areas is 14% for males and 355 for women.
(v) There are no local dailies or local radio or television station.
(vi) There is Just one doctor for 6000 people.
Source – http:/ india – resource tripod .com/pok .html.
Demands of the people Of POK
The people of POK have resented Chinese presence in POK

In 1963, the people of POK protested against Pakistani move to have a pact on Karakoram road to China

The people of POK fear the China may take over POK by 2020 4. A Delegation from POK at the Institute for Defense studies and Analysis in 2009 expressed their suspicion that Sunni majority Pakistan and communist China may exterminate the Shia majority in Gilgit – Baltistan to silence all opposition to their policies.

A NewYork Times article by Seig Harrison states that at least 7000- 11000 Chinese troops have been stationed in Gilgit- Baltistan region of POK

In case Pakistani control over POK becomes ineffective Chinese may take over strict control over Gilgit –Baltistan. That seems the reason behind the presence of Chinese troops in POK.

The Gilgit-Baltistan United Action Forum has emerged to take on Pakistani government in northern areas.

The Gilgit – Baltistan united Action forum for self- Rule has been demanding the right to self- rule

Muttehada Qaumi party wants to attain a status comparable to that of 'AJK'

Abdul Hamid khan, Chairman Balawaristan Nation Front, called upon united nations and international court of Justice to book Musharraf and other Pakistani Generals as "war criminals for genocide" carried out by them in northern Areas (Times of India, Aug-3-2001)

On 20 January,2010 International council Jammu Kashmir National Awami Party (IC JKNAP) leaders demand that Pakistani state must immediately move out its troops from populated Areas of POK as soon as possible.

In 2006 students from Gilgit-Baltistan in POK demanded reservation for seats in Indian institutions like I.I.T.s and I.I.M.s.
(www.rediff.com.cews/2006/may/)
POK and Terrorism
The confession of lone survivor of the Mumbai attack, Ajmal Kasab and David Headly provide sufficient evidence that they received training in a militant camp in Muzafferabad.

There are reports (Hindustan Times, February 1, 2002) that Laden was once hiding in vicinity of Muzaffarabad and Al Qaeda was strengthening its presence in POK.

The spurt of arrests in Muzaffarabad and the adjoining areas after the Mumbai attack are a pointer to their existence of terror comps and militant activities in POK.
In 2010, the report by Freedom House brought out by UN High commissioner for Refugees states
(i) A number of Islamist militant groups, including those that received patronage from Pakistani military operate from bases in Pakistan administered Kashmir.
(ii) Militant Groups that have traditionally focused on attacks in Indian administered Kashmir are reportedly expending their influence and activities in POK, including the establishment of new Madrassas.
(iii) L-e-t and Jamaat ud Dawa operate from POK.
(iv) There have been references to a new militant outfit, lashkar –e –zil (LEZ) Operating in POK.
( The news January 11,2010). LEZ is supposedly an amalgamation of several militant outfits including tehrik -e- Taliban, Pakistan (TTP) led by Hakimulla Mehsud, and Harkat-u1 – Jihad (HUJI) led by commander Illyas Kashmiri (of Al-Qaeda) .
China in Pakistan Occupied Kashmir
China is connected to Pakistan by the Karakorum Highway (KKH).

580 Kms. Of Karakoram Highway runs through Gilgit- Baltistan region of the POK.

Karakoram Highway has been used for illegal transfer of nuclear material from China to Pakistan.

Hydel projects of comat dam and rising of the heights of Mangla dam in POK are being worked out by China.

Zhejiang Design Institute of water conservancy and hydro electric power of China has carried out feasibility studies for building small and medium sized dam. China is considering constructing highways, railways through POK, paper visa to people travelling to China from Jammu and Kashmir by Chinese Government was an attempt to project the status of J and K as a disputed territory.

Security implication of Chinese presence in POK is extremely huge.

Recently there was report of presence of Chinese troops in POK.

Emma Nicholson report titled, "Kashmir: Present situation and future prospects" adopted by European Union on May 24, 2007, also brings China into the picture by noting that the Trans Karakoram tract, formerly a part of the princely state of Jammu and Kashmir is now under Chinese control.
Role of India in POK
(i.) The people of POK are constitutionally and legally citizens of India.
(ii.) So it is duty of government of India and parliament of India to protect the rights of its people in POK.
(iii.) The POK shares border with Afghanistan, China, formers republic of USSP Russia, the POK is gateway of India to fossil fuel, Central Asia and even India comes closer to Iran.
(iv.) The border with Afghanistan of India though POK will ultimately lead to our presence in of Afghanistan
(v.) The strategic depth theory of Pakistan in Afghanistan will be countered by taking over of POK, seats reserved for POK in legislative assembly of Jammu and Kashmir India must appoint or nominate members for 24 seats among POK residents settled in Jammu and Kashmir till POK is taken back from Pakistan. There must be representation from these refugees in Union Parliament.
RELATED ARTICLES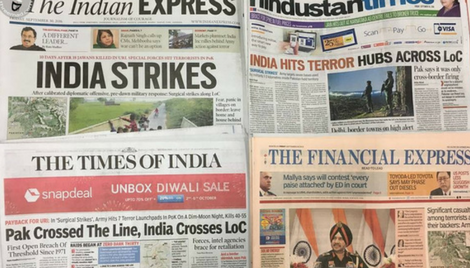 Posted on 9/30/2017 4:30:25 PM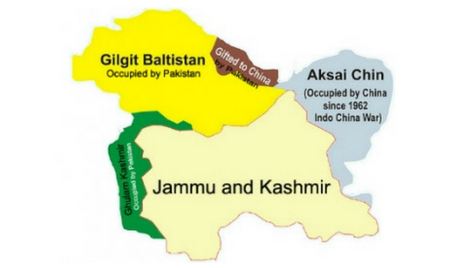 Posted on 9/2/2017 10:52:17 AM
Forcible land grab in Gilgit-Baltistan despite stiff resistance of locals