PoJK and Balochistan have deep rooted cultural bondages with India.
24 Aug 2016 17:15:36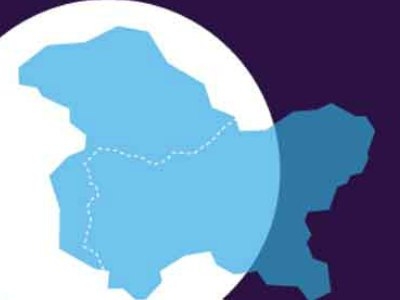 For centuries American-European countries has remained the center of power and governing the whole world as per their will. But for last one to two decades the conditions are changing and new powers are emerging. These new powers are now deciding the course of action in Diplomatic relations of the whole world and the greatest powers emerging are India and China. Whole world is looking at these two nations with so much optimism and enthusiasm. Also the equations of relation among nations are changing today due to these two emerging powers. Diplomatic relations of these two nations with other countries are now deciding the power equations of World and South Asia in particular.
India being the world's largest nation in terms of youth population and China being largest in terms of Army. So with the help of its Army and its years old expansionist policy China wants to be greatest power in South Asia region in particular. But the only country which is proving to be the hindrance in its dream of dominating the whole of South Asia is India. Mostly all the neighbors of China are not happy with its expansionist policy and are not on China's side. To be a supreme power in the region China is taking help of a completely failed state Pakistan. Pakistan is unconditionally providing its land to China in the name of development and China is establishing its base in Pakistan. China and Pakistan both want a weaker India and with the help of Pakistan China is now encircling India through PoJK (Pakistan occupied Jammu Kashmir).
CPEC- THE TRAP
In order to encircle India and making road link directly to middle-east for business purposes China with the help of Pakistan is making China Pakistan Economic Corridor. This CPEC, a $46bn project passes through PoJK (Pakistan occupied Jammu Kashmir), Gilgit-Baltistan and many other parts of Pakistan to Gwadar Port in Balochistan. To make this road link and appeasing China, Pakistan is forcefully taking lands of people living in these areas. Pakistani forces doing all kinds of atrocities on the people of PoJK and Balochistan for a long time, but now all limits of brutalities have been crossed by Pakistan to get land for CPEC. CPEC is the dream project of China to encircle India and making direct trade route to middle-east. Under the project China is renovating whole of the Karakoram Highway and establishing many more Highways and railway lines through PoJK to Gwadar Port of Balochistan. The Gwadar Port will give direct access to China for trade and other purposes in middle-east nations and western world. A $2bn power project is also to be built jointly by China Power Investment Corporation and Hub Power Company of Pakistan at Hub in Balochistan.
Whole aim of CPEC of motivated by the "strategic intent of besieging India" by China and Pakistan. Under the guise of CPEC China's aim is to encircle India and dominating the trade route in Asia. Now the question arises about taking this project specifically through PoJK and Balochistan. What is the legal and constitutional position of PoJK and situations in Balochistan that led Pakistan and China to make their presence felt at these places and dominating the whole of the area of PoJK and Balochistan.
Illegal occupation of PoJK and Human Rights Violations in PoJK & Balochistan
Area through which the CPEC starts is PoJK and where it ends is Balochistan. Both the areas are fed up of atrocities by Pakistani forces on its people. Pakistan by the use of its brutal forces is trying to muzzle the voice of people of these two areas for long time. Now question arises if PoJK and Balochistan are part of Pakistan as claimed by it, then why people here are fighting against Pakistani rule for last many decades? So here are some points that give clear picture about the legal and constitutional position of PoJK and brutalities on people of Balochistan.
Pakistan occupied Jammu & Kashmir, the part of India illegally and forcefully occupied by Pakistan since 1947. This whole part of land belongs to India only legally and constitutionally. Here are some facts supporting India's stand : At the time of Independence there were about 500 princely states that have to decide whether they want to accede to Dominion of India or Pakistan. According to Indian Independence Act 1947, the Authority to accede to any of the Dominion lies with ruler of that particular state only, no other person except ruler of the state has authority to accede with any of the Dominion. As per this constitutional and legal obligation, The Maharaja Hari Singh of Jammu & Kashmir state accedes with India on 26th October 1947 making the accession of the state full and final. The Instrument of Accession signed by Maharaja Hari Singh of Jammu & Kashmir state was same as the Instrument of Accession signed by rulers of other states. There was no condition or any such thing that Maharaja Hari Singh made to accede to India, the accession was completely unconditional and complete.
Now according to Article 1 of Constitution of India, Jammu & Kashmir is 15th number State of Union of India. Constitution of Jammu & Kashmir state also shows the clear status of legal and constitutional position of the state. Article (3) of constitution of Jammu & Kashmir states that: "The State of Jammu and Kashmir is and shall be an integral part of the Union of India.", Article (4) of constitution of Jammu & Kashmir states that: "The territory of the State shall comprise all the territories which on the fifteenth day of August, 1947, were under the sovereignty or suzerainty of the Ruler of the State.", Article 5 of constitution of Jammu & Kashmir states that: "The executive and legislative power of the State extends to all matters except those with respect to which Parliament has power to make laws for the State under the provisions of the Constitution of India." And Article (147) of the constitution of Jammu & Kashmir states that: Article 3, 5 and 147 of constitution of Jammu & Kashmir can never be amended. So there can never be any question arise on the Jammu & Kashmir being an integral part of India and legal and constitutional accession of state with India. Constitution of India and Jammu & Kashmir in particular, clearly states that PoJK and Gilgit-Baltistan is also an integral part of India. Whereas there is no mention about PoJK and Gilgit- Baltistan in constitution of Pakistan or any other legal or constitutional document showing illegally occupied area as part of Pakistan. Even in UN Pakistan never claimed it as their own part because the legal accession of the whole state is with India. India went to UN under the UN charter article 35. That was regarding the aggression of Pakistan on some parts of Jammu and Kashmir, and never about the legal status or accession of the state with India, or any dispute with Pakistan.
Balochistan being an Independent princely state before partition never wanted to accede with Pakistan. At the time of partition of India Nawab of Kalat, a majority area of Balochistan showed his willingness to accede with India but Government of India refused the offer stating that Balochistan and India do not have continuity of borders. The Nawab of Kalat also made a case that even East Pakistan and West Pakistan do not have any continuity of borders same way Balochistan can be West Hindustan. But Government of India still refused the offer stating that it is not feasible as per Indian Independence Act 1947. So without the wishes of its ruler and people Balochistan had to accede with Pakistan. Since 1947 people of Balochistan do not want to live with Pakistan and fighting for self determination against oppressive and failed administration of Pakistan.
Pakistan is doing worst kind of Human Rights Violation in Illegaly occupied PoJK and forcefully occupied Balochistan. People are fighting there with Pakistani forces since 1947 but Pakistani media and even International media never showed these atrocities to the world outside. Even people in other parts of Pakistan never know about brutalities of Pakistan in PoJK and Balochistan. But now for last some weeks we are seeing some media houses showing the pitiful conditions of people living in these illegally and forcefully occupied areas. Pakistani forces killing people there who are fighting for freedom from failed Pakistani administration. Lands of people living there are forcefully occupied by Pakistani forces for CPEC to appease China. Women are being raped, children and protesting youths are being killed by Pakistani forces in both PoJK and Balochistan.
Recently around 500 youth, including top activist Baba Jan of Gilgit-Baltistan have been taken into custody by Pakistani security forces. These young men are imprisoned for demanding Political rights and asking Pakistani forces to leave Gilgit's soil. People are raising anti-Pakistan, anti-Pakistani forces and freedom slogans in Gilgit town, Astore, Diamer and Hunza of Gilgit-Baltistan region. People there are against CPEC and protesting that they will not be benefited with this project. They just want their soil free from Pakistani forces and China's interference. Pakistan also trying to change the demography of that area which is Shia dominated in sunni dominated Pakistan by settling people there from other parts of Pakistan. There are simultaneous protests in all parts of PoJK like Gilgit, Muzzafrabad, Hunza, Mirpur, Chinari and Kotli and in Balochistan. People are raising slogans to free PoJK and Balochistan. Muzzafarabad also observed Black Day on Thursday against Pakistan's oppressions and organised a seminar against Pakistan in Muzzafarabad Press Club. Also for long time PoJK observe 22nd October as black day in connection with the first attack by Pakistani forces on 22nd October 1947.
Importance of PoJK and Balochistan for India
Recently in All Party Meeting discussing the unrest by some separatist elements in Kashmir Valley, Prime Minister of India raised the issue of PoJK and Balochistan. Though this issue should have been raised much earlier by India and persons governing India but as we say its better late than never. Prime Minister Nrendra Modi said in APM that "when we talk about Jammu & Kashmir, we must talk about all four regions Jammu, Ladakh, Kashmir and Pakistan occupied Jammu & Kashmir, time has come to expose Pakistan's brutalities in PoJK and Balochistan, we should contact people of PoJK and Balochistan living abroad and apprise them about how their families and friends treated there." This kind of statement can be given by only such person who knows the cultural, national and strategic importance of PoJK and Balochistan for India. Earlier India and people governed it never knew about the importance of these areas for India and their historical and cultural bondages with India.
PoJK and Balochistan have deep rooted cultural bondages with India. In the history of centuries these two areas have been remained the centre of faith for India. In Indian culture the highest seat of learning is known to be Shardha Peeth in Jammu & Kashmir, the place where thousands of sages and there disciples learned the highest Knowledge about self, philosophy and worldly things. Shardha Peeth has remained the centre of knowledge in India for centuries. Even today it is a ritual in some parts of India that when a child starts his schooling he takes few steps towards Shardha Peeth (North Direction) from his place by saying I am going to Shardha Peeth for education and knowledge. That Sharda Peeth which produced a whole lot of great Scholars and philosophers is in PoJK today. India does not have its highest seat of learning and education for centuries with it today.
The warrior clan of India that fought with invaders for centuries also known as Kshatriyas, the Kshatriyas used to worship Shakti or mother Goddess and had deep faith in Shakti for centuries. The Goddess which is known to be the 'Kul Devi' of Kshatriyas is Hinglaj Mata. The Hinglaj mata who is believed to be as 'Kul Devi' of Kshatriyas is in Balochistan. The centuries old temple of Hinglaj Mata is still present there and people of that area also worship that place as 'Nani ka Hajj'. The centuries old faith centre of both Knowledge and Power in India are not in India today. Apart from this the Gilgit region of PoJK and Balochistan are Shia dominated areas and they completely match the India's thought of Islam which is more lenient, secular and of adjustable with people of other faiths. People in Balochistan are living in more harmony than any other part in Pakistan. Nobody interferes in the religious practices and rituals of persons belonging to other faiths. So the social structure of these areas also is more like India than Pakistan.
There is no doubt about the cultural and historical bondages of these areas with India and legal and constitutional position of PoJK. Now comes the strategical importance of these areas. PoJK is the only area through which India can have direct land access to Middle-East, Afganistan, China and Europe. Gilgit area of PoJK is of great strategic importance for India. In the History of many centuries of India most of the invaders came through this part and if India has gain control over Gilgit region of PoJK it will be very beneficial and strategic position with respect to defence of India. Through PoJK India can keep an eye on all areas like China, Pakistan, Afganistan and adjoining nations. Balochistan on the other side provides the best land route to Afganistan and sea route to Iran and other Middle-East and European nations. Gwadar Port which China is eyeing for a long time can be a game changer for economic and trade expansion of India.
Its great sign that Narendra Modi talked about these areas as they are of prime importance for India strategically and culturally. India now must take this matter to International forums and help People of these areas to free from oppressive rule of Pakistan. Cultural and Historical importance of these areas will again rise the desire of victory among Indians and belongingness to that part of land which is culturally their and was among prime centers of faith of Indian people for centuries. The cultural and historical linkages with PoJK and Balochistan will apprise Indians of their Cultural boundaries and expand the feeling of cultural nationalism which they forgot for centuries. Foreign rule of centuries and then governance by persons who are unaware of cultural boundaries of India led Indian masses to forget about their own roots and cultural boundaries.
That winning streak and geographical vastness of India has been vanished from the mind of Indian masses due to centuries long foreign rule. Talking about PoJK and Balochistan by Prime Minister from Red Fort has brought the areas again under the priorities of India. It is more a change in National character than change in foreign policy about acknowledging the cultural boundaries of India. It would be the first step towards acknowledging and making people aware about the centuries old Indian civilization and its cultural boundaries and shedding the mental slavery that embedded into Indian psyche due to centuries long foreign rule. Now it's a responsibility of every person who wants to see India at 'Param Vaibhav' to reignite that desire to be victorious in the Indian psyche as a whole and make people aware about India's cultural boundaries. It's a positive, wise and very thoughful step by Narendra Modi in this direction.
RELATED ARTICLES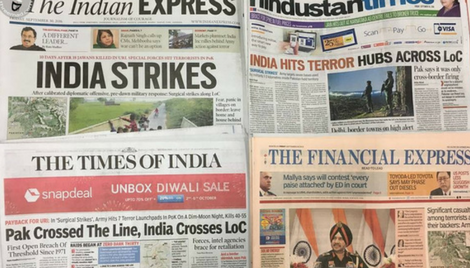 Posted on 9/30/2017 4:30:25 PM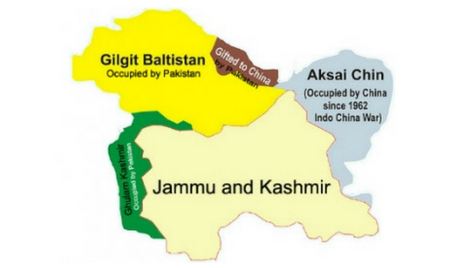 Posted on 9/2/2017 10:52:17 AM
Forcible land grab in Gilgit-Baltistan despite stiff resistance of locals