Pakistani terrorism is losing to Kashmiri Mothers !
22 Nov 2017 17:58:35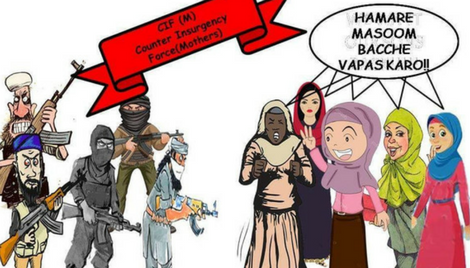 Pankaj
Nothing is more traumatic for a mother than seeing her own son stepping into a world where it is not easy to return back, if not impossible. The path of bloodshed and violence with arms and ammunition in the hands of her child. The mother cries as she understands that the path of terrorism is not what her child shall choose, for it is not the right thing and it will take him to his own destruction. More painful is the sense of what will be the fate of her child. Unfortunately, this has been an ordeal of the mothers of odd 100 terrorists, who joined one or the other terrorist organisations, from Kashmir Valley and I think it is more painful for them than any other pain. Recently, the TV channels are fed with the news wherein the mothers are appealing to their young children, who might have joined the ranks in terrorist organisations, to shun violence. They are using all the means that can take their requests to their own children, who have chosen this path. Naseer Anmad, Majid Khan, Mohsin and Ashique Hussain to name few are the young Kashmiris, whose families have appealed to their children to return back home. The Director General of Police, J&K urged the mothers of the state to appeal to their children to give up the path of violence and return back to their family. His appeal came after a college student and footballer Majid Arshid Khan, who had joined the Lashkar-e- Taiba a week ago, surrendered in Southern Kashmir with arms and ammunition, on the emotive appeal of his mother. Even the CM of the state appreciated the fact that the mother's love prevailed over the hatred. She even mentioned the fact that it is the family, of the youngsters joining the terrorist outfits, which suffers more than anyone else. In yet another case a 16 years old Kashmiri youth, whose name has not been divulged by the J&K police for security reasons, returned back to his family after Arshid.
Kashmir Valley is one of the smallest part of Kashmir and the youth joining the ranks of terrorist organisation belong to the age group of 16-22 years. Also, out of the total population of the state i.e. 1.25 crore, only 100 local Kashmiris have joined the terrorist organisations. They are completely unaware of the historical facts and the miscreants have taken full advantage of it and they have misguided these gullible youth. The mother of one these youth named Majid Arshid Khan, who joined the Lashkar-e-Taiba made an emotive appeal to her son to return back home. She realised that her son has joined the terrorist ranks and what will be more dreadful than seeing her own son getting into a world of darkness. This realisation could not stop her tears, which rolled out of her eyes and she made an online video appeal requesting her son to shun violence and return back home. Her appeal went viral on social media and her son must have understood the grief of his mother, which was more stronger than mythical jihad, that prompted this young boy to return back home. His returning raised the hope for many other mothers and the families, whose children are missing or have joined the terrorist groups, that their children may return. Now, they have started making appeals on social media and any other places where there are chances that their own children would listen to them. Like Asiay the mother of Irfan Ahmed Rather in a teary-eyed and folded hands appealed her son to return to his loved ones. There are also reports of another family in Ringath, Kulgam making a similar appeal to their son Aqib Iqbal joined militants in October to return home. The Army, the CRPF and the J&K Police are supporting such families and they are jointly running the helpline for the local Kashmiri youth who wish to shun violent path and want to leave a peaceful life.
Unfortunately the hate mongers (Hurriyat and separatists) in Kashmir prompt such gullible people into terrorism. They are the one who give their children best education and settle them into prosperous careers but they misguide these local gullible Kashmiri youth into stone-pelting and such other activities. According to one of the media reports "Nayeem Geelani, son of Ali Shah Geelani is a medical practitioner in Rawalpandi, Pakistan and Zahoor, another son of his, is a crew member of a private airline in India. His daughter is a teacher in Jeddah and her husband is an engineer there. Mohammed Ashraf Sehrai's (the general secretary of the Geelani faction) son, Abid Sehrai, is a computer engineer in Dubai. Ghulam Nabi Fall, the cousin of octagenarian separatist leader, and Rabia Farooq, sister of Mirwaiz Umar Farooq, a doctor, live in London. While Ghulam Muhmaad Sumzi's son Jugnu was a management student in Delhi. Rooma Maqbool, son of head of Mass Movement Farida Behanjee, lives and works as a medical practitioner in South Africa. Iqbal and Bilal, sons of head of the Jammu and Kashmir Democratic Liberation Party Hashim Qureshi, live in London. Sarwar Yaqub, son of a spokesman for the Geelani faction, Ayaz Akbar, is a management student in Pune. Two sons of another leader of the Geelani faction Abdul Aziz Dar - Umer Dar and Adil Dar - are studying in Pakistan. Moreover, Mariyam Andrabi, sister of head of the radical Dukhtran-e-Millat Asiya Andrabi, along with her family lives in Malaysia. Asiya wanted to send her elder son to Malaysia for further studies, but he was denied a passport. Asiya's elder son Mohammed Bin Qasim was pursuing Bachelors of Information Technology at Islamic University of Malaysia and now is in Australia for further studies". It is despicable that such hate mongers lure the innocent Kashmiris into the stone-pelting and provoke them to join the ranks in terrorist organisations yet their own children are living a comfortable life. Therefore, it is essential that Kashmiris must be aware that bloodshed is not what any religion promote but it helps such creepy individuals to serve their purpose. Religion only promotes brotherhood, peace and love for fellow human beings.
The present situation wherein the mother are requesting their children will help in dawning the wisdom on these youth who have been misguided. I hope that the mothers' movement against the hypocrisy of hate mongers, in our country and across boarder, will win and the entire Kashmir valley will live a peaceful life. I believe that killing innocent people must not be the way for one to achieve his goals. Though as a society we were not concerned when the bomb blast rip through the city killing hundreds of people and our concern remain to see that certain section of media and hate mongers (or self proclaimed seculars) try to prove the innocence of perpetrators of such crimes. But yes spewing venom will not lead them anywhere but to hell because I feel no God will encourage such slayers. And I strongly believe that the mothers of such gullible youth of Kashmir have understood that their children will neither get any solace anywhere on earth nor they will get heaven by waging the war against humanity. So, they are requesting their children to return back. I salute these mother who are the harbingers of love and brotherhood in Kashmir and actively working as a saviour of humanity.
RELATED ARTICLES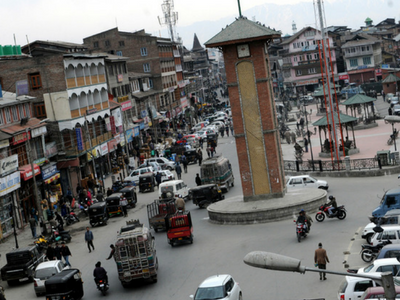 Posted on 11/24/2017 5:08:09 PM
Posted on 11/22/2017 6:42:52 PM
आतंकियों और उनके आकाओं के लिए क़यामत का महीना साबित हो रहा है नवम्बर !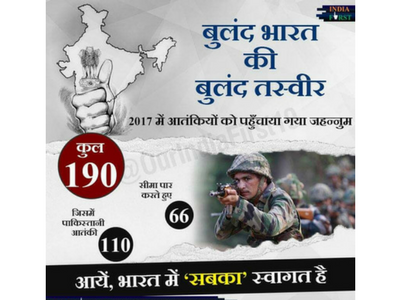 Posted on 11/22/2017 6:25:39 PM