Displaced Persons of Pakistan Occupied Jammu Kashmir
11 Dec 2017 13:43:25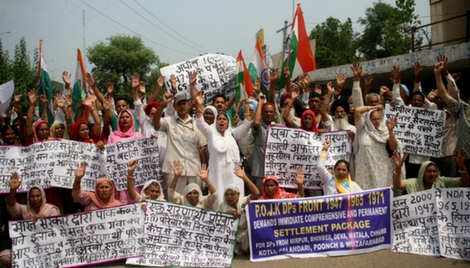 Ajay Kumar
Background: Soon after the partition of British India, Pakistan attacked the then princely state of Jammu Kashmir on October 22nd 1947 which resulted into forced displacement of nearly 12,000,00 innocent people (Hindus and Sikhs) from Mirpur, some portions of Poonch, Muzaffarabad, Gilgit and Baltistan what now called as (POJK). The attack was purely a communal attempt for ethnic cleansing which forced the innocent people to flee from their homes in PoJK to safer regions leaving behind their land and property. The displacement brought untold miseries and trauma to the people of Pakistan occupied Jammu and Kashmir (PoJK).
Rehabilitation of POJK DPS
With an estimated 12,000,00 POJK people's population in India, they have been leading a miserable life for the past three generations in Jammu, Kathua, Samba, Rajouri, Poonch and Udhampur districts of Jammu and Kashmir. Approximately 2, 000, 00 people from the total population are settled in 46 registered camps in Jammu province, especially in R.S. Pura and Jammu areas. Most of them were compelled to quit their native soil in POJK" (Samantry, 2008). Moreover, the DPs of Muzaffrabad (part of Kashmir) were also shifted to Jammu because of fear of demographic change. It is surprising that 5,300 families of POJK DPs are still living in other parts of India like Delhi, Pathankot, Dehradun, Ganga Nagar (Rajasthan) and Kangra in (Himachal Pradesh). But these DPs do not posses PRC, therefore, denied all the rights in J&K.
Legal Status of POJK DPs
Generally media and people call these DPs as 'Refugees' which is not true. In reality they are Internally Displaced Persons because POJK is Indian territory. Sheikh Mohammad Abdullah, the then Prime Minister of J&K in 1950 named them as Displaced Persons vide order No. 1476-C of 1950 dated 16.12.1950.
Steps taken for their relief and rehabilitation
Allotment of plots (1628) and quarters(793) in urban areas.
Allotment of land measuring 7,15,545 kanals by Joint Rehabilitation Board
Disbursement of 91,35,809 by Joint Rehabilitation Board
Wadhwa Committee Report 2007(Not implemented)
Interlocutors Report 2009 (Not implemented )
Parliament Standing Report 2014 (Not implemented)
Some Rays of Hope from Present Government of India
Rupees 2000 Crore Pakage for Displaced Persons in J&K
In an announcement in November 2015 Prime Minister announced the Prime Minister's Development Package for Jammu and Kashmir, he announced Rs. 2000 crore for displaced persons of Jammu and Kashmir. The Union Cabinet, Chaired by the Prime Minister, Shri Narender Modi has approved Central Assistance of Rs. 2000 crore for 36,384 displaced families from POJK and Chhamb. As per the package, Rs. 5.5 lakh cash benefit is being disbursed to the displaced families to enable them to earn an incomeand subsist livelihood.
Politics of Exclusion by State Government
The disbursement of the relief sanctioned by the Union Government for the Displaced Persons of POJK and Chhamb was started on December 12, 2016, but the same was stalled due to objections raised by the BJP, which is part of the government. The BJP leadership has demanded that the discrepancies in the list of beneficiaries should be removed. The state government has identified 36,384 refugee families, including those from Chhamb, as beneficiaries of the package. On the list prepared by the state government, 26,319 POJK families are eligible for getting relief. The decision of the state government to sanction relief to 36,384 refugee families has stirred another controversy as the BJP, which is part of the coalition, is furious over the move to "intentionally" exclude 5,300 displaced families of Pakistan-occupied Jammu and Kashmir (POJK) from this much publicised package. The 5,300 families, uprooted from POJK in 1947, have settled outside J&K to earn their livelihood.
This is sheer injustice with the displaced families settled outside J&K. Without including these families on the list of beneficiaries, the real spirit of the package will not be fulfilled. The displaced persons from POJK, settled outside J&K, have the same rights as those who have been living in the state. Moreover, a large majority of POJK DPs who had shifted to other parts of India, have practically lost their status as the 'Permanent Residents' of J&K. This section of the community sees feeble chances of returning to their home state. In the absence of 'Permanent Residents' status they do not even qualify for elementary rights like buying property, taking up state government jobs or voting for the state assembly, municipalities or even a village panchayats.
Demands Projected by Displaced Persons of Pakistan Occupied Jammu and Kashmir
According to the report of the Wadhwa Committee constituted for looking into the demands and problems of Displaced Persons the following are the main demands projected by POJK DPs:
Permanent (one-time) settlement as against (present) temporary settlement.
Ownership rights should be given in respect of the evacuee lands allotted to
Set up a Joint Commission (with reps of the community) under the chairmanship of a retired/serving Supreme Court Judge to look into their grievances.
Making up of deficiencies in the allotted land units and residential plots.
Payment of compensation in lieu of properties and bank balances left in POJK.
Reconsideration of all verification cases rejected/left out.
Displaced Persons should be placed in special backward category and should be given preference for admission to educational institutions.
2% to 3% reservation in professional colleges across the country including Jammu for the children of these displaced persons.
Reservation out of 24 Legislative Assembly seats kept for POJK should be proportionately given to POJK people living in Jammu Division.
They have not been given proprietary rights on the Evacuee lands/houses constructed on the E.P. lands allotted to them.
Procedure for issuance of PRCs for their children should be simplified. Only father's PRC should be treated as sufficient proof.
Old Revenue record in PRO office and in General Record room, etc. should be urgently preserved and computerized.
Appointment of independent PRO to deal with the problems of DPs instead of present arrangement as PRO-cum-Custodian.
An autonomous POJK Displaced Persons Development Board be constituted with all financial powers and liberal aid for their upliftment and betterment. Also, DPs of 1947 should be given status of International Displaced persons as provided in the charter of United Nations Commission for Refugees.
The DPs from POJK should be accorded 'refugees' status so that all the benefits under National and International laws and rules accrue to them.
The POJK DPs must be included in the dialogue process on J&K at all levels being foremost and natural party to it.
The Central Act of 1954 (Displaced Persons Compensation and Rehabilitation Act) by virtue of which the displaced persons from West Punjab and East Bengal were settled permanently, should also be applied in the case of POJK DPs.
The claims of moveable and immovable properties left behind in POJK in 1947 should be registered without further loss of time. The claims of these properties should be settled at the present market rate.
In 1966 when the World Bank sponsored Mangla Dam was constructed by Pakistan in Mirpur in POJK, the Mirpuri people in India were not allowed by the State government of J&K to collect cash compensation for their properties, submerged in the dam, which the Bank provided to all land and house owners of the dam area. Interestingly, the State Government of J&K passed the 'Resettlement Act 1982' which gives legal rights to the people, who had migrated to Pakistan in 1947, to return to J&K and claim their original properties and to settle in the State.
Categorization of POJK DPs should be abolished and DPs uprooted from their homes and hearths, irrespective of the year of uprooting should be treated as one lot.
Till the final settlement of the issue, the benefits which are accruing to valley migrants such as monthly cash relief, ration money, reservation for wards in professional and technical colleges of the country etc should be extended to the POJK DPs also.
Three nominated seats already reserved for socially and economically backward sections of society in J&K Legislative Assembly be given to POJK DPs, at least two of them
In many cases, separate families as they existed in 1947 have been wrongly combined into one family. These families should be treated separately as they existed prior to migration in 1947.
The un-employed educated POJK displaced youth should be given interest free loans to enable them to establish their business under Self Employment Schemes.
Reservation of jobs in Government Services should be provided for POJK DPs youth.
Refund of amount deducted from the ex gratia grant of Rs. 3500/- sanctioned for each DP family of 1947 (POJK) by the Govt. of India. This amount was deducted against the allotment of land and quarters to the DPs but neither the land nor the plots were allotted to all DPs as per the terms and conditions of temporary settlement.
In addition, with regard to those who had their accounts at the Mirpur branch of the Jammu and Kashmir Bank, the money lying in this bank should be paid to the account holders or to their legal heirs with interest compounded from 1947.
Conclusion
To conclude it can be argued that Displaced Persons of POJK who have been the victims of post-partition disturbances suffered not only during displacement but further during subsequent rehabilitation process also. Since their displacement POJK DPs are struggling hard for their long pending demands and continual neglect, but all in vain. They are not compensated as they deserved. Whatever the relief government provided to these people was ad-hoc and insufficient. Their neglect and denial of their rights have created resentment in the minds of displace persons. Now, the fourth generation of these people has come up and finds itself in wilderness with no cultural moorings, no job security, nowhere to go and no one to turn to. It seems to be losing in some obscure corridor of history. It is high time the government should take up the matter seriously and fulfill all their demands so that they do not feel alienated in their own state.
RELATED ARTICLES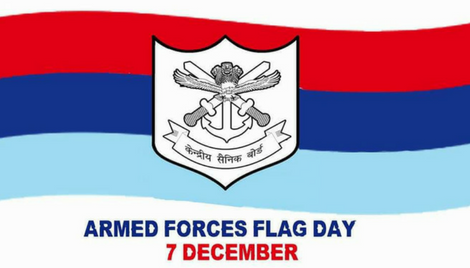 Posted on 12/7/2017 11:35:38 AM
On Armed Forces Flag Day honour the nation's Soldiers, Sailors and Airmen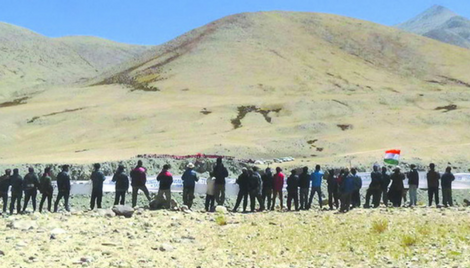 Posted on 12/6/2017 1:08:46 PM
क्या "कश्मीर समस्या" वास्तव में कोई समस्या है ? संवाद भाग - 2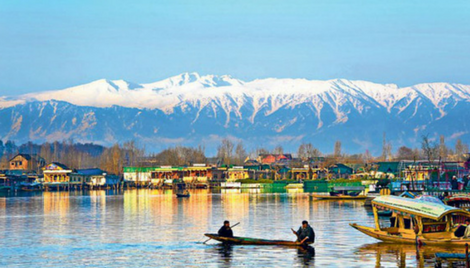 Posted on 12/2/2017 12:22:54 AM
जम्मू कश्मीर के बारे में गलत जानकारी होने से गलत धारणा बनती है भाग-1