Surely the J&K Chief Minister & GOI do not appear to be on the same page
26 Dec 2017 13:13:19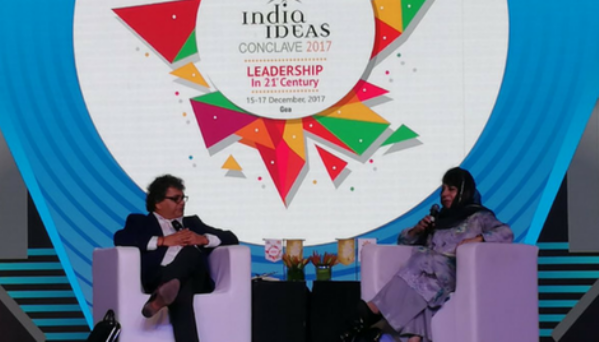 There is much for government of India to take leads from what J&K Chief Minister Mehbooba ji has talked during her interactions in the 'India Ideas Conclave 2017' Goa-Panaji ( IIC2017 Goa) , more particularly her saying " If we want to save Kashmir .. if we want to give people some kind of relief .. want to lift seize .. give Jammu Kashmir a sense of belonging then we have to have a policy of reconciliation internally and externally…".
In the past also J&K Chief Minister Mehbooba Mufti ji has at occasions said certain things about Jammu & Kashmir that in my opinion being Chief Minister of J&K she should have better spoken with the Prime Minister and Home Minister of India . This 15th December while in the interactive session with the audience at the 'India Ideas Conclave 2017' that had been initiated by India Foundation referring to local environment in Kashmir Valley she has said : (quote- " If we want to replace an Idea which is there in some people.. may be there is a % of people who are antra India .. there are a % of people who are pro Pakistani … there are a % people who are pro azadi .. . it is a Idea .. it is idea which is not some thing very is practicable … but there are majority of people in J&K who are for idea of Kashmir with in the idea of India …. we need to build on that … we need to replace that idea with a better idea .. where you throw open Jammu Kashmir it becomes a hub of (.. ?) .. you can not use force against your own people. That is where we have to a draw a line…. Jammu Kashmir at present is under seize .. oos ko gherab mein rakha hua hai … ek taraf se .. you know morning mein aap ko pata nahin hai abhi hartal ki call hogi .. there is going to be shut down call .. there is going to followed by curfew .. should I go out or should I not I go out .. then there is security forces presence .. again it is required … they have not come of their own … we have one fair weather road it is just a fair weather road .. today valley is closed because there was some land slide … so it is a choked place … there is a … Kashmir is under all kinds of seize .. there is a mental seize there is emotional seize there is economic seize.. every seize .. Kashmir is under all kinds of seize … there is no other state in the country that has live borders … If we want to save kashmir if we want to give people some kind of relief .. want to lift seize .. give Jammu Kashmir a sense of belonging then we have to have a policy of reconciliation internally and externally… ."- un quote). There should be no problem in understanding what she meant.
Not only that J&K Chief Minister Mehbooba Mufti so pointedly said while interacting with the people in Goa , even after 17 months of July 2016 killing of 3 militants in Kashmir valley, that (no doubt) security forces have created a conducive atmosphere , there is a general feeling among the police and security forces that they are doing their job but they alone cannot do it opining that If we kill 200 militants, 200 more will come from Pakistan, what to do? .In her view this day the discourse is about militancy, fighting, crackdowns where as we need to change that discourse and that is where the whole country has to help "us" ( her government ). Mehbooba had in a way also summarised the "local" thinking when she said "I remember when I was young, people used to say 'Mufti saab bahut achhe hai, par Hindustani hai'. I wouldn't understand that if he was a good person, why were they saying he was a Hindustani. We need to have a healing touch policy". So, Government of India need to come out of the illusions and redraft the approach on handling the J&K affairs beyond conventional sloganeering tools like showing concern for eradicating poverty and unemployment.
No doubt there is also enough for the center's special representative for J&K Dineshwar Sharma to start the files on "Kashmir" in what Mehbooba ji has so plainly said . ….
No doubt , from her point of view , the J&K Chief Minister has been doing plain speaking in the past also. Even as regards the 'operation all out' too of the security forces against the militants as was started after 10th July 2017 the J&K Chief Minister has not expressed conclusive hopes for return of normalcy in Kashmir valley. Addressing a passing out parade in Police Training School Kathua on 29th November 2017 the J&K CM had said "Militancy ko khatam karna hai… magar militancy sirf militant ko khatam kar ke khatam nahin hoti hai … militancy ke jo bajuhaaat hain.. militancy ki jo asli problem hai oos ko samjgane ki koshish karni hai … police ko unki parenting , counselling karni pade gi". But it appears that so far she has not plainly explained the bajuhaat of militancy and asli problem of militancy to government of India .
Earlier also it was on 25 April 2017 that the Jammu and Kashmir Chief Minister Mehbooba Mufti , while addressing a Unified Command Meeting in Srinagar, had suggested that Security Agencies should act as 'Councilors' to the local community / youth in Kashmir Valley through regular interface counselling sessions for youths to help allay their apprehensions and misgivings about the 'system'. She had then also opined that the Kashmiri youths 'unfortunately' were caught in a web / net of misinformation and violence and hence since they are 'our own' they have to be won over with a healing touch avoiding any possible collateral damage while dealing with law and order situations further ensuring that the parents of the youths ( 'protesting and pelting stones on security forces) are ; taken into confidence ; ofcourse the family should not be held accountable for the deeds of the youths. She had in a way sought the assistance of security forces for socially reaching out to the common masses.
No doubt the security forces / army can surely provide a physically secure/ congenial environment to the people to work with but the socio-politically secure environment has to be provided by the local main stream leadership / civilian government. Mehbooba mufti asking the security forces to do counselling of the youth and not asking her own party cadres speaks of the graveness of the adverse environment ( from Indian point of view) that exits in the Kashmir Valley.
So, Mehbooba Mufti ji needed to be questioned in this regard, what has she been doing all these years , even after 2014 ? Instead of asking the security forces why has not she asked the MLAs/ MLCs of PDP & BJP to stay amongst the people in the interiors of Kashmir valley and work with their cadres atleast in Kashmir for taking counselling sessions of the 'misguided' youth and 'common' people to help remove adverse apprehensions and misgivings about the system amongst that have (in her own opinion) made the Kashmiri youths land in web / net of misinformation and violence ?
Why has she been asking the security forces to take counselling sessions of the protestors or those who doubt the attentions of India?
Why do not the 'mainstream' politicians ( say atleast PDP leaders ) come out of the security cover so as to win hearts of their 'own' people / apply healing touch , is a simple question?.
Does she feel that the 'mainstream' political leadership sitting in governing chairs has lost the faith of Kashmir valley?
The United Command Meeting was held after the Chief Minister had returned from Delhi where she had discussed the Kashmir situation with Prime Minister Narendra Modi and Home Minister Rajnath Singh on 24th April. A close feel of the spirit in her message to the security forces asking them to do the job that otherwise the civilian agencies ( political leadership and civilian authorities ) are supposed to do did reflect the extreme worrying situation in Kashmir valley. From such like approach it is feared that any body could infer that situations have nearly gone out of the control of the 'democratically' elected present government.
Mehbooba Mufti's PDP had won over 11 out of 16 MLA seats falling in the Anantnag parliamentary constituency in 2014 elections. Ex Chief Minister Omar Abdullah has said in recent past that when NC-Congress government was in power Mehbooba mufti frequently visited the families of the locals killed in encounters with security forces and in her own words locals there treated her as their sister. So, Mehbooba ji need to introspect why her party leadership advocated for deferring the 12th April 2017 parliamentary elections to the same Anantnag Parliamentary constituency and the Delhi Government too need to take to J&K affairs rising beyond simple political interests of his party? Simply laying accusations on Congress for the unending turmoil in J&K must be stopped now. J&K has remained under local Congress rule only from 1967 to 1975. Congress participated first time in J&K legislative elections only in 1967 and won 61 out o of 75 seats. Earlier in 1962 NC had won 70 out of 75 seats. In 1972 Congress had won around 58 seats and after that Congress has never been in power in J&K on her own, it has only shared power with NC and PDP . Therefore all have to share the responsibility for providing a physically secure/ congenial environment to the people of this state by acting as 'Councilors' to the local community / youth in Kashmir Valley through regular interface counselling sessions by moving in the lanes and streets amongst the people to help allay their apprehensions and misgivings about the 'system'.
J&K PDP has not routed NC in Kashmir Valley simply with the slogans against AFSPA 1990 or by demanding handing over Power Projects to J&K PDC but has routed NC more with talks of asking Government of India to focus more on "Kashmir Issue" and not issues in Kashmir ( Mehbooba Mufti Ji had very boldly made known her parties approach in 'that' regard while speaking in Lok Sabha on 16th June 2014). PDP's J&K Self Rule Framework 2008 Page-18 Chapter II The Contours of Resolution : Setting the stage for Resolution: Jammu & Kashmir Issue: Challenges Clause- 58 says : What sets apart "self-rule" from "autonomy" is the political context in which they are conceived and operate. Self-rule refers to Autonomy from the Nation-state of India, whereas Autonomy connotes relative autonomy from the Government of India. The two are vastly different in substance and style. The change -- from "autonomy" to self-rule" -- means is a fundamental shift in the terrain of political discourse and the existing status of the Kashmir issue. ……. Page-19 Chapter II The Contours of Resolution : Setting the stage for Resolution: Jammu & Kashmir Issue: Challenges Clause- 59 says : Autonomy refers to empowerment of the Government of Jammu and Kashmir vis-a-vis the Government of India. As such it becomes a part of the center-state debate in the Indian federal set up. Self-rule on the other hand refers to the empowerment of the people of Jammu and Kashmir, vis-a-vis the nation of India…….). Central leadership should have no difficulty in understanding what is "Kashmir issue" in the words of J&K PDP and hence must focus on that in case road to peace and prosperity has to be tread.
In Oct 1947 the tribesmen aided and abetted by Pakistan forces attacked the areas of Princely state of Jammu Kashmir bordering Pakistan. In Gilgit Baltistan region the invaders did not face much local resistance from the forces of Maharaja / the local population and most of the area was occupied by the rival forces (Pakistan) beyond possible recovery by the Indian forces even after accession of J&K with India on 26th Oct 1947 ( ofcourse Dr. Karan Singh has cultivated a new controversy as regards the accession of J&K with India when he said on the floor of Rajya Sabha on 10th August 2016 that Maharaja Hari Singh had signed the instrument of accession in his presence on 27th Oct 1947 ).
Where as , as regards Kashmir Region ( although the invaders there too faced very very less resistance from the State forces and Brigadier Rajinder Singh had to make extreme sacrifice ( before the Indian forces could arrive) the invaders had received negligible support from the local people of Kashmir region although there it was nearly a total muslim population ( and India had been partitioned on the basis of religion). So, at that time had the Kashmiri masses on the basis of their religion associated with the 'Pakistani' invaders, the reaching of Maharaja from Srinagar to Jammu and invaders not taking over the control of Srinagar airport/ routes/ valley would have been a question? It has to be accepted that the scale of Hindu migration from Kashmir valley in 1947 was very very less as compared to what the world has seen after 1989. Why has the anti- India / religious radicalism grown in Kashmir Valley after independence, could be a question. The Kashmir Valley leaders must introspect at their level as well?
So, it is time now to do plain speaking. The NDA government can not justify the continuation of the Kashmir turmoil just by pleading that it has no magic band to correct the damage done by the Congress governments over more than six decades. The issues have to be accepted and corrected. All the six MPs who got elected in 2014 Lok Sabha Elections belonged to BJP & PDP ( three from each party ) It is so strange that inspite of that the J&K Chief Minister had to convey at occasions to the government of India the political needs of J&K through media / public statements as she has also done in Panaji on 15th December 2017. Whom do these MPs represent?
In addition to opining on handling the militants by security forces and parenting / counselling of 'mis guided' youth of Kashmir valley , another issue that Mehbooba Ji has in a way tried to push under the mat during the interactions on this 15th December in the India Ideas Conclave 2017 ( IIC2017 Goa) is of return of Kashmiri Pundit migrants. The J&K Chief Minister & PDP supremo has also opined that they ( kashmiri Pandits migrants) are better placed outside the Valley where ever they are staying and her government is considering to rehabilitate the kashmiri pundit families who had not migrated in 1990 and had dared to stay back 'home'.
Earlier also in 2015 Mufti Mohd Sayeed, the then J&K CM , had while speaking in the legislative assembly on 9th April 2015 had disclosed that as per reports gathered from interactions with Kashmir Pandits only 10 to 15 per cent of them will choose to return to the Valley since they (Kashmiri Pandits) are well placed in various parts of the country and abroad… and if government does something on the matter, they will come to the Valley on seasonal pattern. The government of India should have taken such disclosures seriously but that was not done even then, the migrant leaders too did not that seriously refute the disclosures made by the CM. Now Mehbooba ji too has said so in 2017 also. This could be one of the prime indicators to show the nature of the approach that the governments have held as regards J&K affairs all these years.
In brief these are summary indicators of what GOI as well as the prime BJP leaders too need to take notice rising above all kinds of local political vote bank interests including the life & style of local government in case J&K ( particularly Kashmir Valley ) has to be provided environment of peace and stability.
RELATED ARTICLES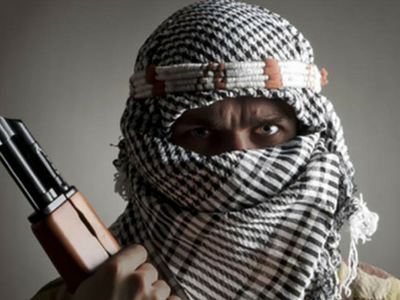 Posted on 12/13/2017 2:41:49 PM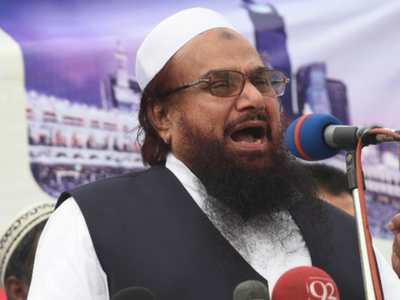 Posted on 12/12/2017 1:53:21 PM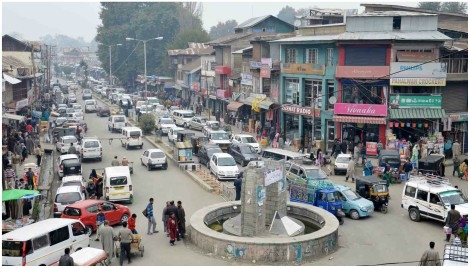 Posted on 12/7/2017 12:19:11 PM
For peace and stability problem of 'Kashmir' has to be fixed in plain words