Kashmir Poet Lalleshwari
27 Dec 2017 13:55:14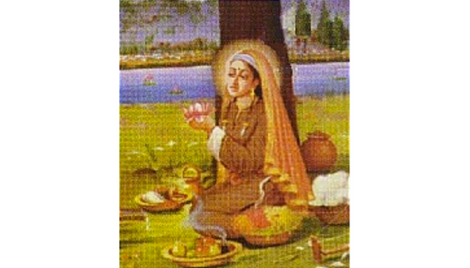 Lalleshwari
The name of Lalleshwari in ancient saint tradition of Kashmir is highly respectable. In childhood she received her religious education from her family religious-guru. The legends and general beliefs consider her a highly intellectual spiritual personality who excelled her guru in spiritual attainments. Besides Hindus, she was also revered by Muslims. The Muslims used to affectionately call her "Lala Arifa", but most of the people of Kashmir know and call her respectfully as "Lal Ded", which means – 'Mother Lal' or 'Mother Lalla'.
Lalleshwari was a resident of 'Puranadhisthana', a place about four and a half mile south-east of Srinagar. Today it is called 'Pandrethan'. In those days Kashmir was ruled by Sultan Alauddin. It was the period of mid-14th century AD. As was traditional in those days, Lalleshwari was married at a very young age. But having no interest in mundane life, she moved towards the world of spirituality. Her spiritual practice was of very high level. She was a follower of Shaivism and a deep practitioner of Yoga. She used to immerse very deeply in meditation and could easily feel the pleasure of "Anahad Naad" ('Eternal Sound' in spirituality). She was dedicated to God like Meera, and used to express her thoughts in very simple ways like Kabir. She used to deliver her sayings in the local language. Although her topics used to become a bit mystical due to being highly spiritual in nature.
She greatly influenced the social and religious movements of her time. She was miles away from fundamentalism and did not like grotesque forms of rites and ceremonies either. She preached affection and tolerance among the masses near and far. Her teachings are called "Vakyas". Her 'Vakyas' are still quite popular in forms of idioms and proverbs. Scholars and knowledgeable people believe about 30 percent of Kashmir's idioms and proverbs have been derived from her Vakyas. Rising above narrow-minded religious thinking, she witnessed eternal truth of life, and taught the same to the society. Her teachings are equally valid for all religions and philosophies. She says it doesn't matter by which name one calls that divine entity. He holds the highest place in all situations. A true saint humbly serves the humanity. It is not much important what one does for their livelihood. Only they should behave affectionately with others and live a pure life. She emphasized that since the lord exists everywhere, if one could go deep enough to discover their inner self, they would have discovered the lord himself.
Her greatest blessing to the society was the elimination of its state of spiritual limbo. Before her, the society had been confused by fundamentalists and so called religious leaders.
Like the rainbow, her teachings also have seven major points. They are -
(1) One doesn't need to go to a temple or a mosque. That supreme entity exists within their inner self. One's own heart is the temple they need.
(2) She criticizes idolatry.
(3) She believes that God exists everywhere, in everything.
(4) She strongly condemns greed, arrogance and
(5) She is strong advocate of purity, moral values and equality in life.
(6) She believes in the core values of all religions and their philosophies and respects all of them.
(7) One should not get affected by praise or condemnation. Maintaining their integrity, they should focus on the God.
Hence we see that Lal Ded induced and enriched Kashmiri literature and philosophy. She developed the culture of love, tolerance and humanity in the Kashmiri society. Her contribution in character building in Kashmiri society is invaluable. This Kashmir-born deity is honorable and reverend for everyone.