PoJK refugees demand compensation
10 May 2017 12:22:51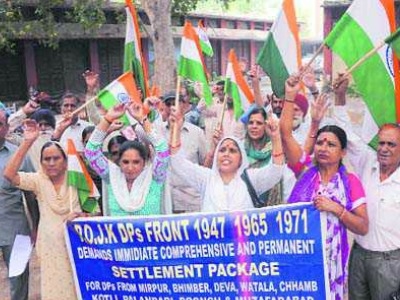 JAMMU,
The Pakistanb Jammu occupied J&K Displaced People's Front (PoJKDPF) 1947, 1965, 1971 and Non-Camp 1971, today staged a protest in support of their demands.
The front requested both the Centre and the state governments to solve their issue on humanitarian grounds and put the sanctioned relief amount in their accounts at the earliest.
A rally was held under the chairmanship of Capt (retd) Yudhvir Singh Chib wherein the protesters held flags, banners and placards and raised slogans against the government.
The rally started from Exhibition Ground and after reaching Dogra Chowk, it tried to move towards old Tawi Bridge but the police stopped the protesters.
Speaking on the occasion, Chib said the government was only buying time and it had no authentic policy for the welfare of displaced persons. He said documentation was a big problem with displaced persons' families as their documents were not available with the old records room.
He added that a meeting was held with the revenue authorities under the chairmanship of the new Deputy Commissioner of Jammu who had promised them that every effort would be made to resolve the issue.
Courtesy : Tribune India