Why do the two alliance partners address each other through media even on subjects like "Kashmir issue"?
11 May 2017 13:05:28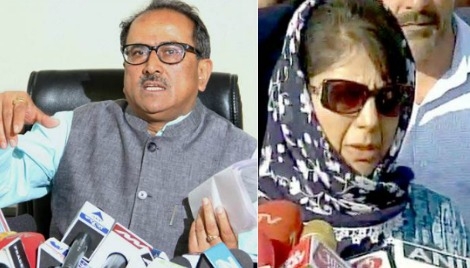 PDP has not routed NC in Kashmir Valley simply with the slogans against AFSPA 1990
Even in 2017 we can find some BJP & PDP leaders addressing the otherwise convictions regarding Kashmir issue and stake holders through media instead of directly interacting with the other alliance partner. How long those who represent Delhi will be allowed to play with the woes of the people of J&K exploiting the religious regional emotions just for the sake of finding a 'place' in media lines? When will they dare to be with the people whom they boast to represent?
PDP has not routed NC in Kashmir Valley simply with the slogans against AFSPA 1990 or by demanding handing over Power Projects to J&K PDC but has routed NC more with talks of asking Government of India to focus more on "Kashmir Issue" and not issues in Kashmir Mehbooba Jee very truthfully had made her
parties approach known while speaking in Lok Sabha on 16th June 2014 when she demanded government of India to specifically address to "Kashmir issue" than talking of issues in Kashmir resting more in questions on 26th October 1947 accession, J&K not being federally a state of India like Punjab, position of J&K, India, Pakistan & other world.
A common question being asked these days is why the main opposition regional party of J&K, the National Conference (NC) is appearing toeing the separatist line." Some so simply say that NC is doing so since J&K People's Democratic Party (PDP) has nearly ended the monopoly of National Conference in Kashmir Valley. No doubt the answer does lie around such like explanation but to reach the roots for the phenomenal change in the expressions made by NC after 2002 one must understand the "magic mantra that Mufti Mohd Sayeed's PDP has used to make the people of Kashmir Valley rally around it. The mantra has been of the type that could better percolate in the growing separatist infested environment in the valley since many myths questions regarding J&K having become as good India as had become Punjab or Hyderabad after 1947 accession of the then princely states of Indian British Empire. Government of India had left many anti India anti accession sermons viewpoints myths uncontested and get cultivated particularly in Kashmir Valley.
J&K PDP just in 3 years from 1999 to 2002 threw challenges on National Conference that Congress had not been able to press in till then inspite of having been indirectly or directly in power seat after 1953 till 1975. And the mantra was of SELF RULE Framework that in simple terms professed of something like (i) naming the Pakistan Occupied areas of J&K as Pakistan Administered J&K and the remaining part as Indian Administered Jammu & Kashmir (ii) joint control of India & Pakistan on some affairs concerning the State of Jammu & Kashmir (iii) a Council for Greater Jammu and Kashmir having 5 members each as nominated by India and Pakistan (iv) Validity of currencies of both India and Pakistan in two parts of J&K (v) Leading it to Greater Jammu & Kashmir to decide the import export tariff between J&K and two main lands of India and Pakistan and (vi) professing Autonomy of J&K State from Indian Nation State. And this mantra Self Rule surely diluted the totalness of the 1947 accession of J&K with Pakistan thereby finding better acceptability as compared to Greater Autonomy of National Conference that called for just autonomy for government of the state from the central government. Ofcourse the support base of NC and the supporting fields for PDP are nearly same Kashmir Valley and both the parties have lesser gravity stakes in Jammu and Ladakh regions since it was only the Kashmir Valley that had been expressing resentments against non- fulfillment of some commitments made in 1947 by government of Indian particularly by Pt Jawahar Lal Nehru , the then Prime Minister and talking of J&K being a muslim majority state.
It was on 24 April 2017 that after meeting the PM & HM of India Mehbooba Mufti while talking to media professed for talks regarding Kashmir issue political solution to 'Kashmir'' turmoil with all stake holders including the Hurriyat Conference separatists . Home Minister Raj Nath Singh has already expressed desire to talk for solution but within the ambit of constitution of India with all the related stake holders to be identified also on the advice of J&K Chief Minister . Mehbooba ji has included Hurriyat too in the stake holders although it has also been mentioned in the BJP-PDP agenda for alliance 1st March 2015 well knowing that Hurriyat leadership too has rejected any talks for solution with in the frame work of Indian Constitution . May be PDP finds the Hurriyat demands worth settlement with in the ambit of PDP's Self Rule Frame Work that has not been questioned by neither of the national level parties so far. ( PDP's self Rule document was made public in a press conference by Lt Mufti Mohd Sayeed on 25th October 2008 and reported in media on 26th Oct 2008 .