BJP-PDP-NC should pledge this 2017 Kargil Vijay Divas for providing "a home in J&K" to Martyr Families
26 Jul 2017 12:19:54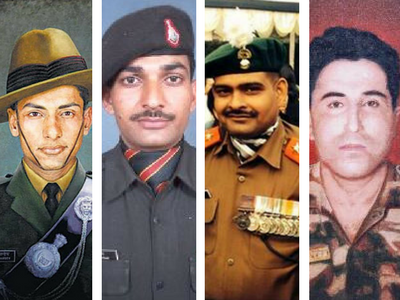 Indian Army is celebrating the 18th anniversary of the victory of 1999 Kargil war, the day Operation Vijay of Indian forces was successfully achieved with the defeat of the Pakistani Army in Kargil ( Drass Sector ). It was in first week of May 1999 that intruders were spotted and 9th May the Pakistani forces resorted to heavy gun fire in Kargil district. The Indian forces, in a way, took to a regular war from 9th June and recovered all the areas and took back the control of high posts by 26th July, the day that is now celebrated in India as Kargil Vajay Divas every year in the honour of the Kargil War's Heroes and in New Delhi, the Prime Minister of India, pays homage to the soldiers at Amar Jawan Jyoti at India Gate every year.
Functions are also organized all over the country, including J&K, to commemorate the contribution of the Armed forces made through even supreme sacrifices by nearly 527 soldiers including PVC Captain Vikram Batra (from Mandi- HP) 7 July 1999 Kargil War Point 4875, PVC Lieutenant Manoj Kumar Pandey ( from Sitapur-UP ) Batalik Sector 3 July 1999, PVC Grenadier Yogender Singh Yadav 'Ghatak Platoon' ( from Aurangabad-Bulandshahar Distt- UP) 4 July 1999 Kargil war and PVC Rifleman Sanjay Kumar ( from Vil Klol Bukiana Distt- Bilaspur - HP ) Kargil War June-July 1999 to whom the Indian nation paid humble tributes by decorating them with Param Vir Chakra. Many of those who made sacrifices for defending the borders and people of J&K belonged to Indian States other than J&K and the 4 Param Vir Chakra winners who fought in Kargil war also belonged to states other than J&K.
Some from the J&K government and some from non government public organisations may be celebrating Kargil Divas in Jammu and other towns of J&K today. Ofcourse Indian Army will be observing the day in Kargil ( Drass ) with the participation of locals and the soldiers belonging to even states other than J&K. But the celebrations that will be made by the public institutions in J&K will not be formally having any of the family members of the families of the soldiers who fought in the Kargil war (operation Vijay). Even the families of the 4 soldiers who were decorated with Param Vir Chakra will not be there, it will not be so only in 2017 but has been the case for all the 16th anniversaries that have been celebrated earlier too. On would ask why, the answer is simple, the Kargil Martyr Families do not fall in the category of Indian citizens who are classified as Permanent Residents of J&K interms of Section- 6 of J&K Constitution that takes leads from the State Subject Law of pre independence days. Hence, they neither own a land and home in J&K nor their children can enter government professional colleges as well as government service in J&K.
The people of J&K for whom "they' (likes of PVC Captain Vikram Batra (from Mandi- HP), PVC Lieutenant Manoj Kumar Pandey (from Sitapur-UP), PVC Grenadier Yogender Singh Yadav 'Ghatak Platoon' ( from Aurangabad-Bulandshahar Distt – UP) and PVC Rifleman Sanjay Kumar ( from Vil Klol Bukiana Distt- Bilaspur -, HP ) have made and have been making extreme sacrifices too have not cared all these years to accommodate atleast the families of martyrs in J&K and put pressures on the local governments / political leaderships to bring such decorated families with in the scope of Permanent Resident of J&K laws even when there are provisions available in the J&K Constitution for making such space.
As per Department of Internal Security, Jammu and Kashmir Affairs, Border management , States and Home GOI's annual report 2003‑2004, in 2002‑2003 433 soldiers and in 2003-2004 326 soldiers lost their lives even fighting terrorism in J&K. But even in 2017 we are not in a position to quote a case where government of Jammu & Kashmir has offered a 'home' in J&K with Permanent Residents Rights like right to vote in elections to J&K legislature, joining J&K State services and joining professional colleges owned by J&K Government to the Family of a martyr. Yes "bravo" notes are vociferously made by local Chief Minister, Ministers, MlAs and MLCs simply to hid the media lines as and when family of soldier is made orphan while fighting to face the lands & Permanent Residents of J&K.
It has to be noted here that for listing redefining the requirements for an Indian Citizen to be a Permanent Resident of J&K procedural provisions are very well made in Section-9 and Section-8 of J&K Constitution and the amendments, where ever needed, are well within the reach and capacity of J&K legislature as well as J&K Government for making corrections. As regards the state services and professional colleges "martyr families" can be accommodated even by executive orders. Even after 1957 Government of J&K has extended the StateSubject Status or right to construct house in J&K to some 'outside' people in view of the importance of those people to J&K.
Although Maharaja Hari Singh Government's notification of 1927 on State Subject, from what leads for Permanent Resident Law have been taken after independence, in a way talked of giving preference to State Subjects in terms of jobs, acquisition of lands property but acquisition of lands property but it did not talk of altogether rejection of others. So there should not be any problem for even incorporating exceptions in J&K Grant of Permanent Resident Certificate (Procedure) Act,1963 (Act No 13 of 1963) and Rules 1968. The provisions can be created in a democracy. So, the question is of intentions and not provisions.
Though it may 'hurt' or agitate some people but it could be easily alleged that ,so far, the people who have ruled J&K in the name of democracy have used the provision of Permanent Resident of J&K and the provision of Art 370 in Constitution of India more for projecting that J&K is not as good an Indian state as is Punjab or UP .
BJP –PDP Government in J&K too will be celebrating 3rd Kargil Vajay Divas today after having taken over but this government too has not been with difference. Even BJP has not talked of it "Home for atleast the Martyr Families" these three years. It is not out of place to mention here that National Conference too so often claimed for having fought out the Pakistani Invaders in 1947 October for India in 'Kashmir'. Why can't BJP, NC, Congress and PDP come together 'pledge' for providing a home to the families of Kargil War martyrs in J&K as a token for celebration of Kargil Vijay Divas this 2017 Kargil Vijay Divas..
RELATED ARTICLES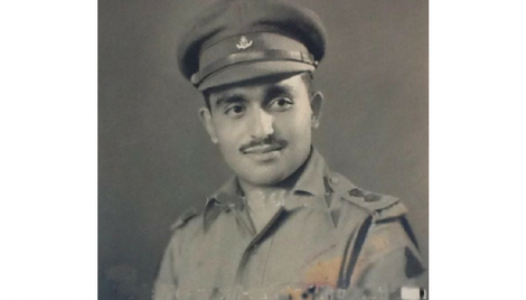 Posted on 11/4/2017 5:01:19 PM
Jammu and Kashmir: The sacrifice of past generations should not go in vain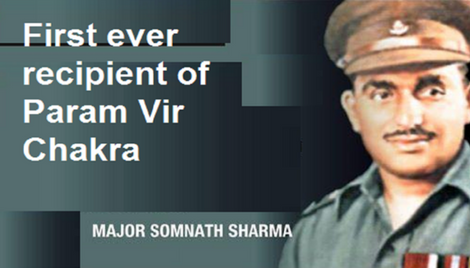 Posted on 11/2/2017 2:08:11 PM
Unforgettable Hero: Major Somnath Sharma, India's First Recipient of Param Vir Chakra
Posted on 10/31/2017 6:49:26 PM