Freedom fighters' body pays tributes to Udham Singh
01 Aug 2017 11:36:34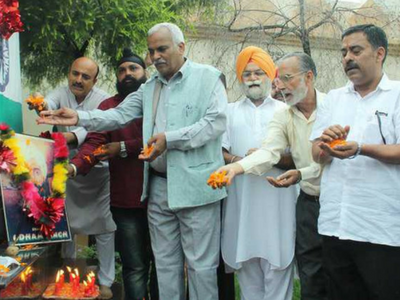 JAMMU,
The J&K Freedom Fighters' Association (JKFFA) today organised a function to observe the death anniversary of Shaheed Udham Singh at Dogra Shourya Sthal, Amphalla, which was attended by a large number of people.
Member of Legislative Council Advocate Ramesh Arora was the chief guest on the occasion. JKFFA president Ved Gandotra said Udham Singh was a true patriot who fought against the British empire.
The speakers, in their address, said Udham Singh was a "real hero and an inspiration to thousands of revolutionaries" who fought for the country's freedom. They said today's generation should study the freedom movement in detail.
Throwing light on the life of martyr, they said perturbed by the massacre of Jallianwala Bagh, he took an oath to eliminate General Dyer at any cost and went to London to execute his decision.Members paid candlelight tributes to Udham Singh and observed a two-minute silence in his memory.
They also remembered martyrs Bhagat Singh, Rajguru, Sukhdev, Netaji Subhas Chandra Bose, Maharani Laxmi Bai, Chander Shekhar Azad and all those who contributed to the freedom of India.
Courtesy : The Tribune