It is the ? ( QUESTION) on Very existence of Art35A that has disturbed the Kashmiri leadership
21 Aug 2017 12:59:18


Discussions on Art35A "of" Constitution of India have disturbed the Kashmir Valley centric Main stream Political parties much more than what could the questions on Article 370 of Constitution of India do . One would ask why?
It was on MARCH, 11TH 2015/PHALGUNA 20, 1936 (SAKA) that in a written reply to Starred question No: 138 - TO TAKE AWAY THE SPECIAL STATUS OF J&K- asked by Shri Anil Desai Member Parliament (a) whether it is a fact that through Article 370, the Constitution gives special status to Jammu and Kashmir; (b) if so, the special concessions/facilities granted to Jammu and Kashmir which are not available to other States; (c) whether it amounts to discrimination among States; and(d) whether Government is thinking of scrapping the special status of Jammu and Kashmir and if so, by when the process will be over? Government of India through MINISTER OF STATE IN THE MINISTRY OF HOME AFFAIRS (SHRI HARIBHAI PARATHIBHAI CHAUDHARY) replied in Rajya Sabha that (a): In the Constitution of India, there is no mention of 'Special Status to Jammu and Kashmir'. Article 370 provides for 'Temporary provisions with respect to the State of Jammu and Kashmir'. (b) to (d):The question does not arise in view of the above. When on 12 March 2015 the news about reply appeared in the print media one of my known media person rang me up from Srinagar and said "Daya Sagar Ji our special status has been taken away without touching Art370". No other reactions or otherwise reactions (retaliation) worth taking note came from any Kashmir Valley leadership or those who are in 2017 talking of some special constitutional status granted in the form of Art35A 'of Constitution of India' in recognition of the Kashmiri leadership having agreed for acceding of this Muslim Majority princely state of J&K with India on 26th October 1947. May be they could not agitate since the reply in parliament was on technical grounds and 'they' had no technical logics with them to contest.
Art 35A has been more used to show 'distances' between J&K State and India, why? Why Farooq Abdullah's United Front has felt the need for going to the 'people' of J&K for explaining Art 35A after its very existence has been questioned before the Apex court ?
Is it wise to throw challenges on the Courts for influencing an ultimate decision on a matter lying before the court for examination by saying some thing like "we have also decided to appeal the democratic voices and all credible sections of the society in the country to understand the dangers ahead and the serious implications of removing Article 35-A. This will be a dangerous move, dangerous for the state and as a country as a whole,"?
No sir, it is not wise. Better 'they' should go to 'their' own people and do what ever corrections that are possible at " their " level since " one " can influence a political decision by public pressure but surely neither one should nor one can influence a judicial decision with political pressures.
Why only Kashmir Valley leaders are agitated when Art 35A is questioned? :: Should not the likes of Mehbooba Mufti and Farooq Abdullah also go to the people outside Kashmir Valley and explain why they have not been able to do some good to the STATE using the 'special provisions' available to them as contained in a 'New Article' by the name Art35A 'added' in Constitution of India after Art 35 simply by a Presidential order and that has been now questioned for even its valid constitutional existence before the Hon'ble SC of India.
Making reference to a petition related to Art35A of constitution of India pending before Supreme Court of India Mehbooba Mufti J&K Chief Minister ( on 28th July 2017 ) while in Delhi she said " 35A ke saath agar shed - shaad huyi -- yeh batane mein mujhae koyee gurej nahin hai ki oos jandhae (national flag) ko kanda dene bala koyi nahin hoga" - 35A के साथ अगर छेड़- छाड़ हुई, यह वतने में मुझे कोई गुरेज नहीं होगा उस झंडे ( राष्ट्र द्वाज) को कान्धा देने बाला कोई नहीं होगा let me make it very clear !, Dr. Farooq Abdullah Ex. Chief Minister he said on 07th August 2017 while addressing media in Srinagar < "aaj yeh bahut jaroori tha ke 35A par hum apas mein milein aur is pe baat karein, kyon ke yeh galat fehmi main aap logon se nikalna chahta hoon – logon se neekalna chahta hoon ,yeh sari riyasat ko affect karne bala hai ,jammu kashmir aur ladakh, is liyae yeh bahut jaroori hai ki log is ko samaj sakein ke ham 35A ko abrogate karne ke liye kyon khilaf hain.. is ko hatane ke kyon khilaf hain, kyon ke ye hamari buniyadi cheej ko hatana chahtae hain, never say that people are tired .. when it will come .. to that decision .. you will see this mass rising .. donot forget when that Amarnath yatra thing happened.. over night people all know 35A will be a far greater revolt and wonder whether they will be able to hold that" and some senior retired civil servants & legal practitioners from Kashmir Valley have even gone to the extent of even cautioning the Apex court and warning the "Nation- India" that in case the decision of the Apex court would go in favour of those who have challenged Art35A it will not be in the national interest of India. One would ask why so restlessness in Kashmiri leaders this time to the extent of making challenging references to a sub judice subject?
The answer could be that this time it is not the content of Art35A that has been questioned but it is 'very existence' of Article 35A that has been questioned; this time it is not the cover that is given by this article to the discriminatory laws orders prevailing in J&K that in practice even discriminate amongst the indian citizens who are the permanent residents of J&K (male and female permanent residents of J&K) what to talk of the discriminating between permanent residents of J&K and the non permanent residents that has been questioned but this time it is the genuineness of the very existence of this article that has been questioned.
It is the question raised on the very existence of Art 35A that has so much disturbed the Kashmiri leadership fearing that on face of it the defence for the existence of Art 35A appears weak.
RELATED ARTICLES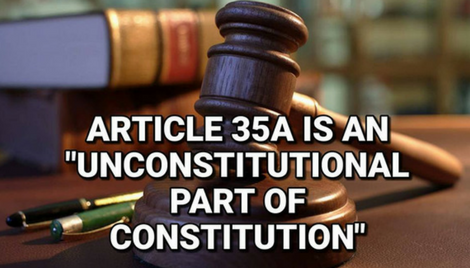 Posted on 9/4/2017 2:52:46 PM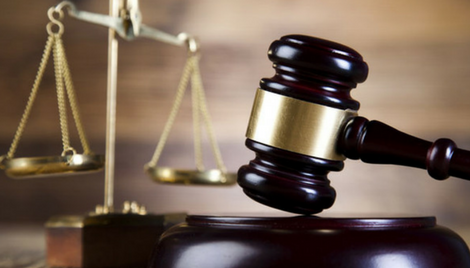 Posted on 9/4/2017 11:46:06 AM
अनुछेद 35A को प्रशानिक एवं सम्बेधानिक पहलुओं की कसोटी पर ही परखना चाहिए !