Documentary on 35A
31 Aug 2017 20:20:27
Ever since Article 35A was brought into force there has been no discussion either on plights of the victims or constitutional validity of this article. We are releasing a first ever documentary on article 35A. Through this documentary we will try to highlight issues arising out of enforcement of Article 35A and how the grievances of their affected people are going unheard.
The screening will be embraced by auspicious presence of Mr. Jagmohan Former Governor, J&K and Former Union Minister as Chief Guest. He spent several years in Jammu and Kashmir and is very well acquainted with the repercussions of the article.
The screening event will also be attended by a very noted speaker and constitutional expert Sh. Jagdeep Dhankar, who is a senior advocate and a former union minister.
This documentary will be released on 2nd September 2017 in Auditorium, Nehru Memorial Museum and Library, Teen Murti Bhawan, New Delhi.
In the documentary you will see how things are manipulated by politician of that time. Any change in the constitution is possible only by enacting a constitutional amendment bill. The detailed procedure for this process has been enlisted in the constitution itself under Article 368. The process initiates with the introduction of a bill in either house of parliament. The Bill must then be passed in each House by a majority of the total membership of that House and by a majority of not less than two-thirds of the members of that House present and voting.
If President, in case of any emergency, promulgates an ordinance than the same has also to be ratified by parliament else it will automatically null and void after six months from the date of promulgation.
In case of 35A the constitutional procedure was not followed. In 1954 it was inserted in the constitution merely through a presidential order. To overcome any opposition against this unconstitutional article the constitutional procedure was bypassed. In number of books on Indian constitution there is no information or reference of article 35A as this article was placed in the appendix only and that is why many constitutional experts don't know much about this.
This black law violates several fundamental as well as legal rights of various communities residing in the Jammu & Kashmir. In a democratic country, where constitution gives equal rights to each of it's citizens, such a law existed which deprived the residents of J&K of their rights.
In Jammu & Kashmir there are four communities which severally affected by article 35A. The Valmiki community which has been residing there since 1957. Although initially promised by government they were deprived of PRC (A permanent residence certificate) which is mandatory to receive benefits under government schemes and policies. Their child can become a sweeper only if he/she has a graduate or masters degree. Similar hardships are faced by GORKHAS and WEST PAKISTANI REFUGEES. They are also deprived for their constitutional rights. The women of state are also facing the discrimination. If a women marries a man from any other state than she loses her eligibility to get a PRC.
We request you to attend the screening and make this event a huge success. Your presence will help us to mainstream the problems of our fellow Indian citizens and give a force to their voices so that they can be given the rights of which they have been long deprived.
RELATED ARTICLES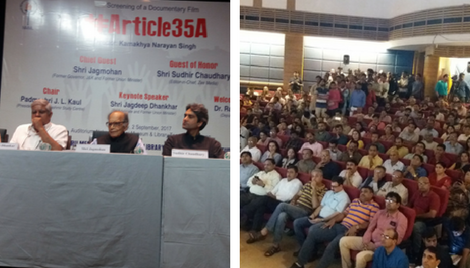 Posted on 9/5/2017 12:00:05 PM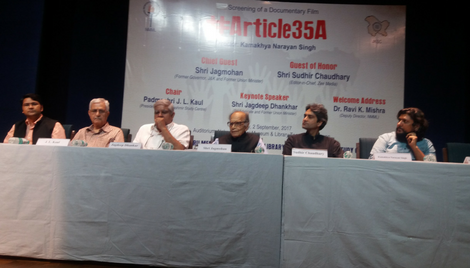 Posted on 9/3/2017 12:11:18 AM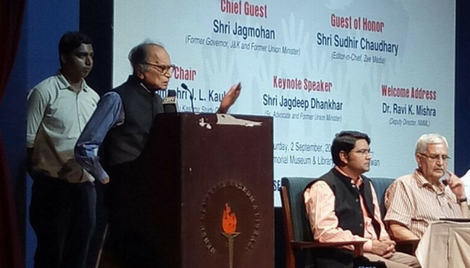 Posted on 9/2/2017 10:15:46 PM
Article 35A must go: JagmohanJammu Kashmir Study Centre releases documentary on Article 35A