Pakistan's hypocrisy on Plebiscite.
26 Sep 2017 10:52:59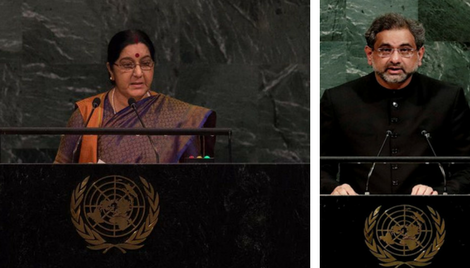 Sushma Swaraj & Shahid Khan Abbasi
External Affairs Minister Sushma Swaraj, who addressed the 72nd session of United Nations General Assembly Session in New York, lashed out at Pakistan Prime Minister for accusing India of human rights violations in areas of Jammu and Kashmir and terrorism. Sushma Swaraj asked Pakistani leaders to introspect as to why India is recognized as a global IT superpower, while Pakistan is infamous as the "pre-eminent export factory of terror". Mrs. Swaraj further accused Pakistan of waging war against India and said a country that has been the world's greatest exporter of havoc, death and inhumanity became a champion of hypocrisy by preaching about humanity from this podium. Swaraj's reply came after Pakistan Prime Minister Shahid Khan Abbasi in his speech on Thursday accused India of violating human rights and provoking State-sponsored terrorism.
It is quite noteworthy that for the past 70 years Pakistan has been using the UNGA platform only to enchant the Kashmiri issue. Pakistan, by repeatedly referring to UN resolution, has been demanding plebiscite in J&K but it has failed miserably in its blatant attempts to conceal the truth from the public.
Recently in an interactive session with a Pakistani scholar on the Kashmir issue, prominent writer Christine Fair ridiculed Pakistan's claims of carrying out a plebiscite in J&K. In this interactive session a scholar asked her about UNSC resolution with false narrative. Her reply to Scholar was a slap for Pakistani government which made fool its citizens by propagating misinformation. Here is the full conversation between Christine Fair and the scholar. (Also watch the video through this link https://youtu.be/Gn5ySLNrkGA )
The scholar said "My name is Ehtashaan and I am full bright scholar here at the States. Of course I want to write the book but my observations are based on the presentations made by Christine. Unfortunately I found some of the arguments very selectively used to project on one side of the picture were presented. For example you said that Pakistan has no legal basis on Kashmir. I don't understand what sort of legal basis we should have. You have mentioned about the UN resolution. You have mentioned that India went to Security Council and Security Council said that let the Kashmiris decide by plebiscite with whom they want to go".
While responding his question Christine said "You need to read my book because every single thing you just said is fictional. Let us begin with the UN Security Council resolution for you. Have you read it? First thing I am going to encourage you to do is going to the UN Security Council's website and read that fabulous resolution that every Pakistani points to but which not a single one has read. Also then I want you to take the actual version from the UN Security Council and then I want you to compare that to the claims made by Pakistan's permanent representation to the UN. And then you are going to understand your confusion. The resolutions are actually very clear. There are three steps. They are sequential and they are conditional. The very first step was that Pakistan was supposed to demilitarize to the satisfaction of this UN body that was to be established. Then condition upon UN being satisfied with this demilitarization, India was also supposed to demilitarize with a presence being permitted to defend itself against Pakistani aggression. The third having both of these two steps taken place is satisfaction in sequence to this preferences of the UN then the plebiscite will be held. So although the Pakistani resource said that the plebiscite that never happened they have their own government to blame because Pakistan never fulfilled the first necessary but insufficient condition. So I am going to encourage you to actually read that resolution, if you ever make fool of yourself again by presenting it in public. So just do yourself a favor by reading the thing".
By elaborating the much talked about UNSC Resolution she highlighted the three conditional and sequential steps being listed in the original resolution that must be satisfied before any plebiscite can be conducted. These steps been taken in sequence and to the satisfaction of UN, the plebiscite would be held".
So from the aforesaid conditions it is quite evident that Pakistan has no one to blame but its government for its failure to demilitarize the region and consequently not providing the conducive environment necessary to carry out any plebiscite in J&K.
RELATED ARTICLES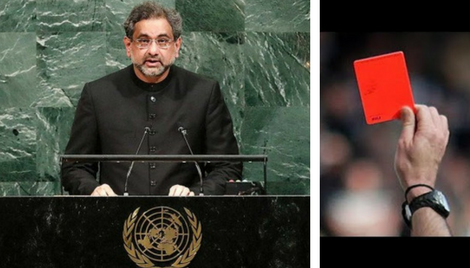 Posted on 10/17/2017 10:41:03 AM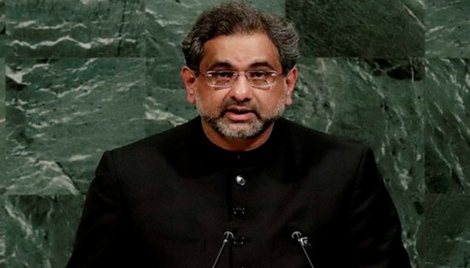 Posted on 9/26/2017 11:29:19 PM
Will misled Kashmiri youth learn from Pakistan's international ignominy?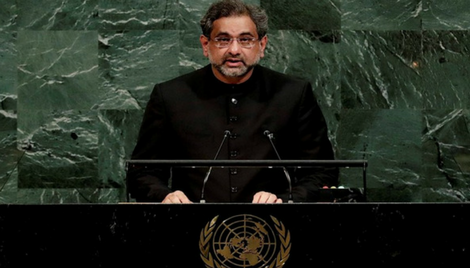 Posted on 9/25/2017 8:02:14 PM
संयुक्त राष्ट्र में पाकिस्तान के कठपुतली प्रधानमंत्री ने फिर झूट का सहारा लिया